This week marks the Queen's official 90th birthday. To celebrate, Kitchenways are running a competition to discover a Royal Bake that is Fit For A Queen. All you need to do to enter is bake something fabulous, give it a Royal sounding name, take a photo and share it on Twitter, Instagram or Facebook using the hashtag #FitForAQueen and tagging @Kitchenways in the post.
The winner will get afternoon tea at the Ritz in London, a London Eye Champagne Experience with fast track entry and then a stay at a 4* Hotel in Central London. There are second and third prizes of £50 and £30 Kitchenways vouchers to use on their website, and the 4th to 10th placed entries get a £10 voucher for use on the Kitchenways website.
So, in case you're stuck for ideas, my entry is below. I also love this fabulous Union Flag Cake from Donna at What the Redhead Said, which I have to admit is rather better than my offering. But still, here's mine.
Royal Fruit Bouquet
I have been doing quite a bit of baking with the girls lately, and there is more to come as birthday season is still in full swing. As a result, I decided it was time for a change from cake, so I decided to make a pie instead. The Queen is often given flowers and she wears lovely bright colours, often opting for flowers on her outfits as well. So that was the inspiration behind my bake.
Ingredients
For the pastry
225 g plain flour
110 g unsalted butter
80 g fair trade dark brown sugar
Tsp ground cinnamon
Tsp ground mixed spice
1 egg (beaten)
Splash of milk
For the filling
2 cooking apples
Pot of fresh raspberries
Pot of fresh blueberries
3 kiwi fruit
Tsp ground cinnamon
Tsp ground mixed spice
Fair trade dark brown sugar to taste
Method
To make the pastry, put the flour, butter, sugar, cinnamon and mixed spice into a large mixing bowl and use your hands to bring it all together until it has a crumbly consistency.
Add the beaten egg and a splash of milk and bring together into a dough. Add more milk or dust with flour if required. Rest the dough in the fridge while you prepare the filling.
Wash all the fruit, cut the apples into small pieces and put the apples into a good, non-stick pan with a tablespoon of sugar, plus the cinnamon and mixed spice.
Cook on a low heat for a couple of minutes and add the other fruit. Stir together, turn the heat off, cover and leave the pan on the heat. Check the taste and add more sugar if required.
Roll out the pastry and cut circles of it to line the bottom of your flower moulds.
Drain the juice from the fruit and fill each mould with fruit.
Place another piece of pastry onto the top of each pie.
Bake in the centre of the oven at 180 degrees for 10 to 15 minutes until golden brown.
Serve warm with ice cream.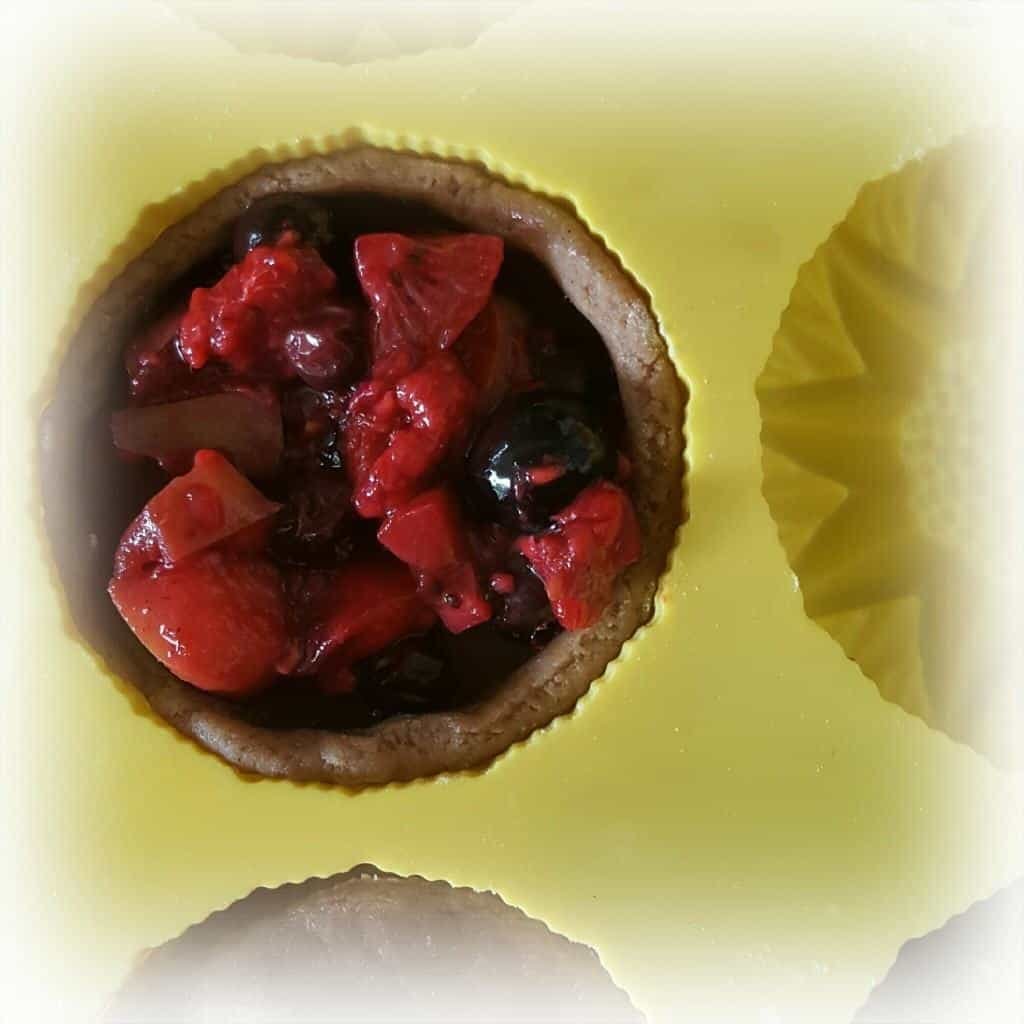 Please note, this is a collaborative post with Kitchenways. Views, opinions and fruit pies are all my own. If you can bake something rather more suited to being served to the Queen (let's face it, my Royal Bouquet isn't exactly a masterpiece), head to the Kitchenways website for all the info you'll need to enter the competition.