With half term upon us, it's great to have a few craft activities to turn to when the children need entertaining. I've done a few craft projects this year and I've also seen some amazing crafts from other bloggers. So I thought I'd share 10 of my favourites. These are all really simple crafts for young children. None of them take any specialist equipment and children can really get involved.
1. Paper plate birds
Jenny from The Gingerbread House has been making paper plate birds with her little ones. This is a super easy craft that involves folding a paper plate in half and decorating it as you like. Head over to her blog to find out how they made this gorgeous paper plate robin.
2. DIY Daffodils
Laura at Dear Bear and Beany has been making beautiful yellow daffodils with her girls. You'll need to grab some yellow paper, glue, yellow cupcake cases, green lolly sticks, scissors and a pen. Once you've got them, Laura will show you step by step how to turn them into these gorgeous flowers.
3. Jazzy spaceship
My children had a go at creating a space themed craft. This was made in two parts so not only was it easy to make, they could both join in without getting into an argument about it. Here's how to make a spaceship.
4. Flying themed mobile
This mobile from Someone's Mum is ideal for children who get fed up of things quickly. It has birds and insects hanging from it, but all the little characters are on pegs. This means you can just unclip them and change them for a different character whenever you like. Danielle will let you know what craft supplies you need and talk you through how to make this brightly coloured mobile.
5. Upcycled pencil holder
There's nothing better than recycling something you no longer need and turning it into something fabulous. This pencil holder is made from an old tin and a few craft supplies. Let Clare show you how to make a trash to treasure pencil holder.
6. Picture frame to masterpiece
I had a go at some upcycling with my girls last month too, with an old picture frame that the children turned into their very own masterpiece. Even if you don't have a picture frame, you can pick one up for £1 at a charity shop and this is how children can create their own framed picture.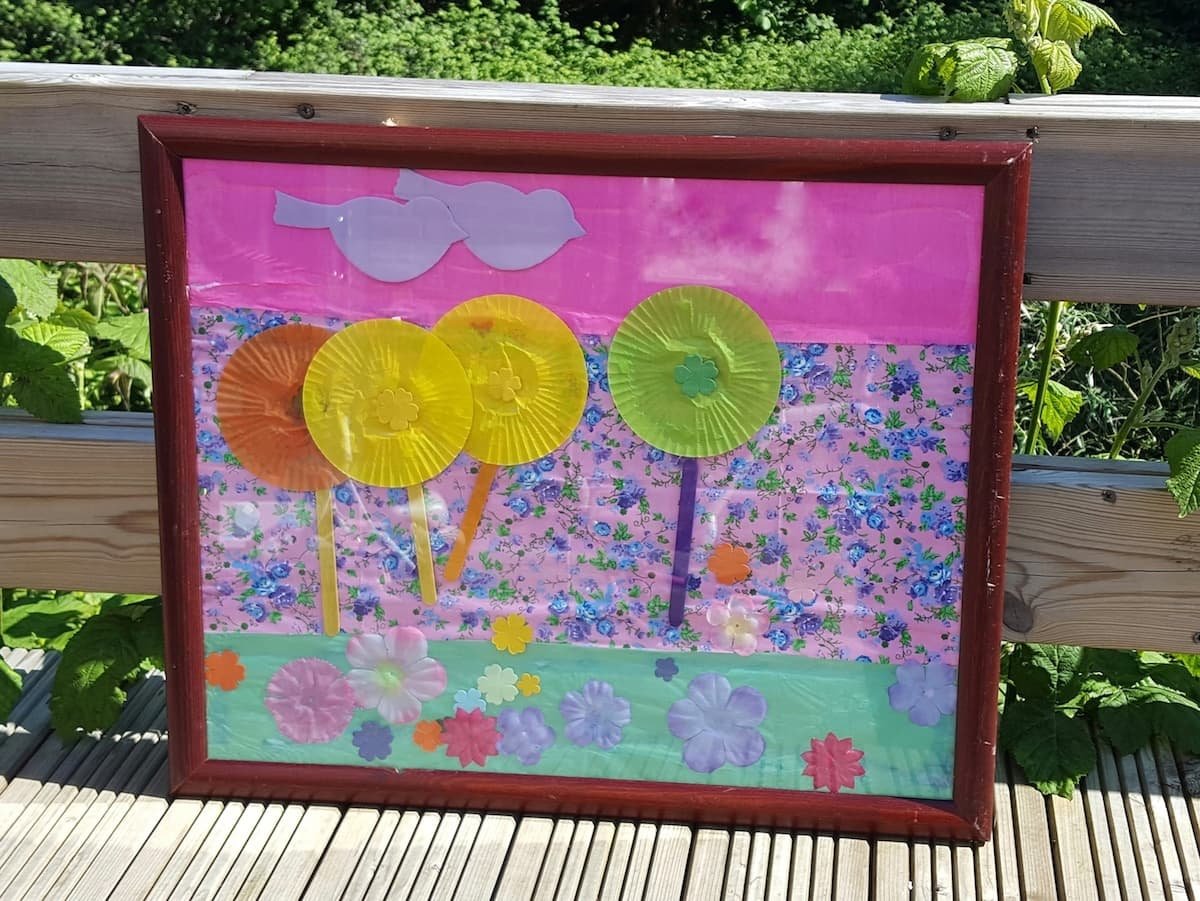 8. Animal handprints
Children love nothing more than making handprints. They're something even the youngest children can get involved with too. So grab some paint, paper and babywipes and Hannah will show you how to create cute animals from your children's handprints.
8. Bunch of paper flowers
The problem with fresh flowers is they never last for very long. So next time you need a gift for someone, forget the fresh flowers and set to work making a gorgeous bunch of paper flowers instead. They last forever and they look gorgeous. Hannah has put together a fab guide and video to show you how to make stunning craft flowers.
9. Sensory shaker crafts
Young children learn with all their senses. That's why things like sensory shakers are such a great idea. They're fun to make too, and a great use for recycled plastic bottles. So save a drinks bottle, grab some glitter and other bits and pieces that would fit into a bottle and head over to Leanne's blog to learn how to make a flower sensory shaker.
10. Bird tree
Some days I struggle to know whether to get my girls outdoors or do crafts with them. Both are so beneficial and yet there's rarely time to do everything. But this bird tree craft involves both outdoor time and crafts. So go and collect some sticks from the local area and let Leanne show you how to make them into a tree, complete with birds.