Last week I received an email asking if I'd like to attend a blogger's lunch at the stunning Dewsall Court, a wedding venue and country retreat in rural Herefordshire. I love days out, so I was devastated when I realised it was on a day when my husband was working and there was nobody to have Lia. But incredibly Dewsall Court is totally family friendly and I was able to bring Lia along.
About Dewsall Court
Dewsall Court is a huge country house in rural Herefordshire that sleeps up to 27 people. It has 10 stunning bedrooms, each with its own bathroom and unique and beautiful bath. It is set in 15 acres of Duchy of Cornwall grounds overlooking the Black Mountains.
Dewsall is a wedding venue holding up to 170 and host to some gorgeous events including dinner parties with top chefs. It is available for private hire as a home from home and now you can even visit on a Hygge break for the perfect cosy, relaxing retreat.
The house
This once-derelict building has been converted in a way that makes you feel instantly at home as soon as you arrive at the door. Guests who hire the house have exclusive use of it for the duration of their stay. There is a cosy kitchen and sitting room, a light an airy dining room and bedrooms that seem to wrap you up in a big hug when you walk in.
There are princess beds, reclaimed antique baths, chilled out leisure rooms and carefully considered decor throughout. I love the attention to detail with every little nook taken care of to make it snug and homely. We even made orange pomanders, which is one of the most therapeutic things I've done for a long time! I was particularly impressed with the fact that Lia was made to feel so welcome.
The barns
The converted barns provide additional ensuite bedrooms. They are more modern than the main house but totally in keeping with the feel of the place. As they are a little further from the kitchen, they have their own tea and coffee facilities. They also have their own private patio area and views that are to die for.
The wedding venue
Weddings can be held in the Wainhouse Barn. This has been specially designed as the perfect place to have a party. It has a huge dining room, its own bar and a dance floor that can be shut away behind closed doors so the band can set up before the area is revealed. The whole place is completely self-contained and just a few seconds walk from both the barns and the main house.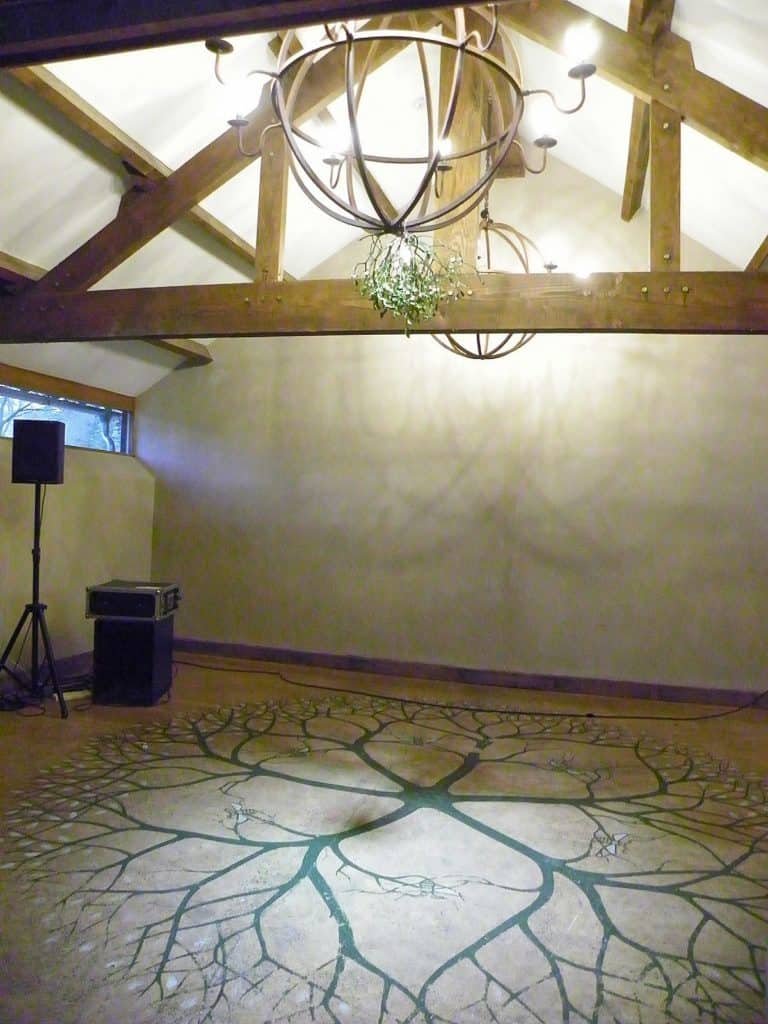 The food
We were treated to lunch at Dewsall Court today. Our menu was the same as the one that will be served at the Furs, Fire and Ice parties this Thursday and Saturday. I had the vegetarian menu and Lia had the regular menu. I had an epic blogger fail as the main was just too delicious looking and I was half way through it before I even thought to take a photo.
The starter was borsch with vodka, sour cream and chives. This was followed by potted smoked trout and brown shrimps, rye crisps and pickled rainbow vegetables. The veggie option was pea arancini.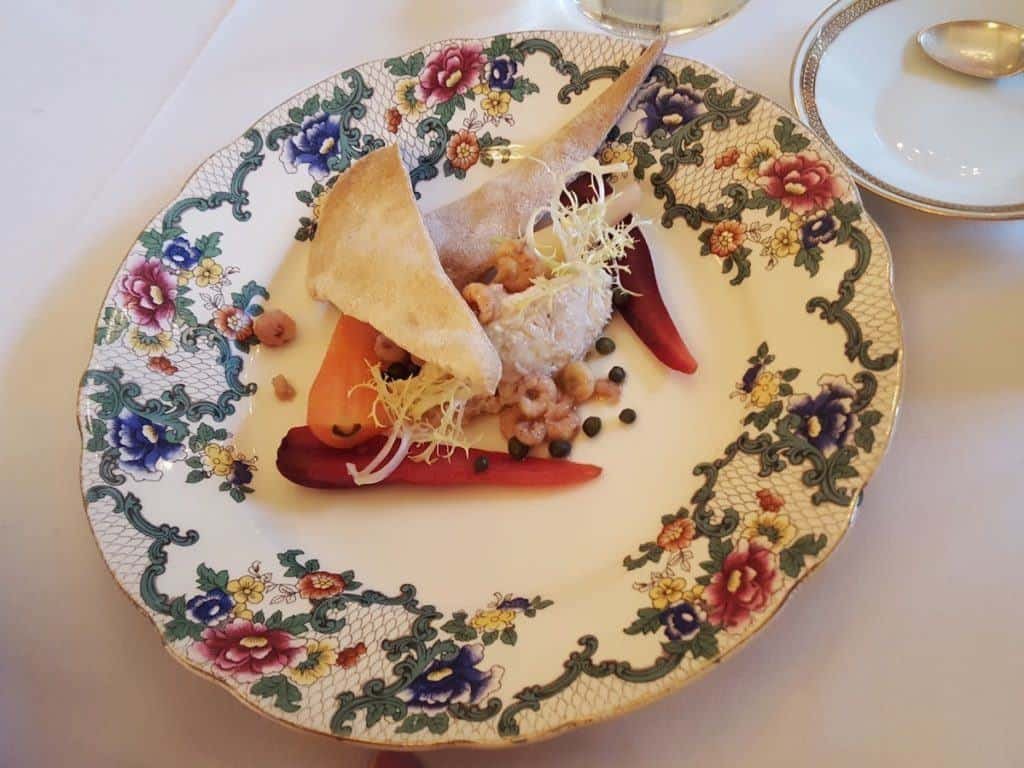 The main was Ewyas Harold lamb, blackened new potatoes, confit onions, and kale compote. For vegetarians it was crispy halloumi, mint, molasses, pomegranate, smoky creamed corn and grilled aubergine. I was right to just get stuck into this, it was divine! For dessert, we were treated to hot chocolate and sloe gin puddings.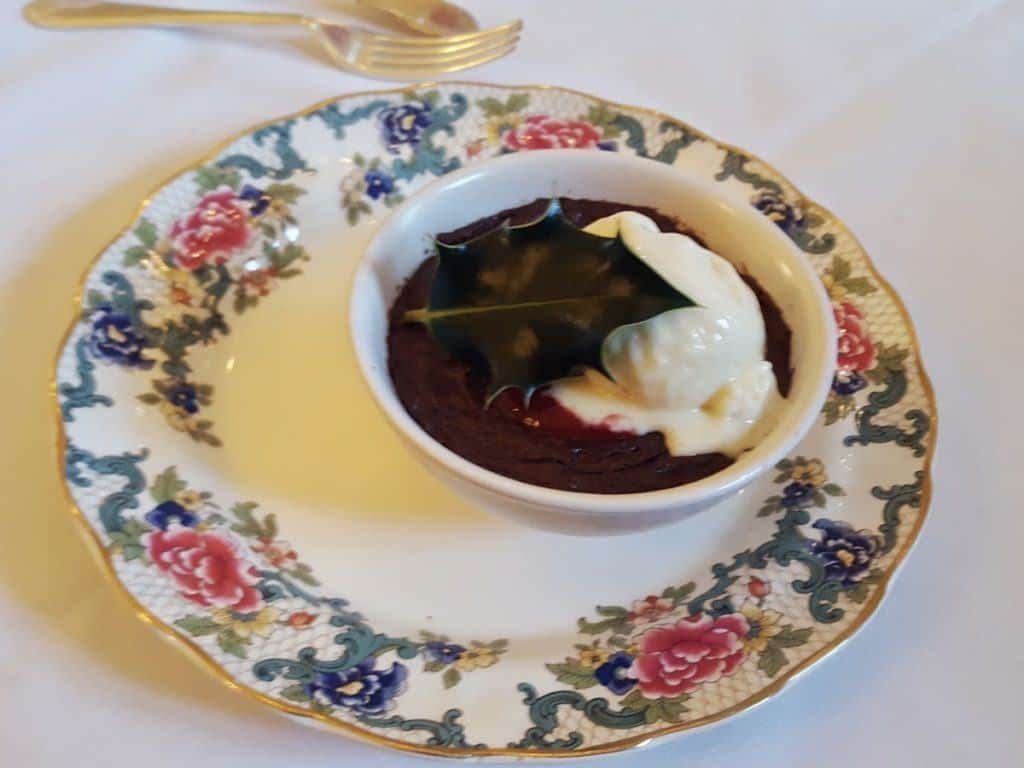 The verdict
Whether you're there for a day or a week, for a party or a short break, Dewsall Court is the perfect place to relax. The owners and event coordinators are all so friendly I felt like I'd known them for years. They are also incredibly professional. I know if I had any issues or needs while I was there, they'd do anything they could to help. Both Lia and I had a thoroughly enjoyable day and would highly recommend Dewsall Court.
Please note, we were invited to Dewsall Court as guests to allow me to blog about the event. All views, opinions and images are my own. As is the little girl who was surprisingly well behaved throughout and came away with a new-found love of trout.