[AD] Paid collaboration
My children have always been quite good eaters. With a few exceptions, they tend to eat whatever I put in front of them at dinner time. In fact the only time they really struggle is when they've been eating sweets and junk food between meals. So there's no problem then. Don't feed them between meals and everything will be fine. Wrong!
The snack dilemma
The issue I have is that by mid afternoon when Lia gets up from a nap and Libby finishes school, they're hungry. They're also tired, we usually have somewhere else to go before home and it's a couple of hours until dinner time. So the only real solution is to give them a snack. But what can I grab that will fill them up a bit but not too much? Something healthy but not boring.
Introducing ChewyMoon – the nutritionally balanced healthy snack box
When ChewyMoon got in touch to see if we wanted to review their snacks, I realised it could be the solution to our dilemma. ChewyMoon is a snack subscription box that is full of nutritionally balanced snacks. As well as being nutritionally balanced these snacks are really tasty and they're fun too. They're only made from natural ingredients with no added sugar or other nasties.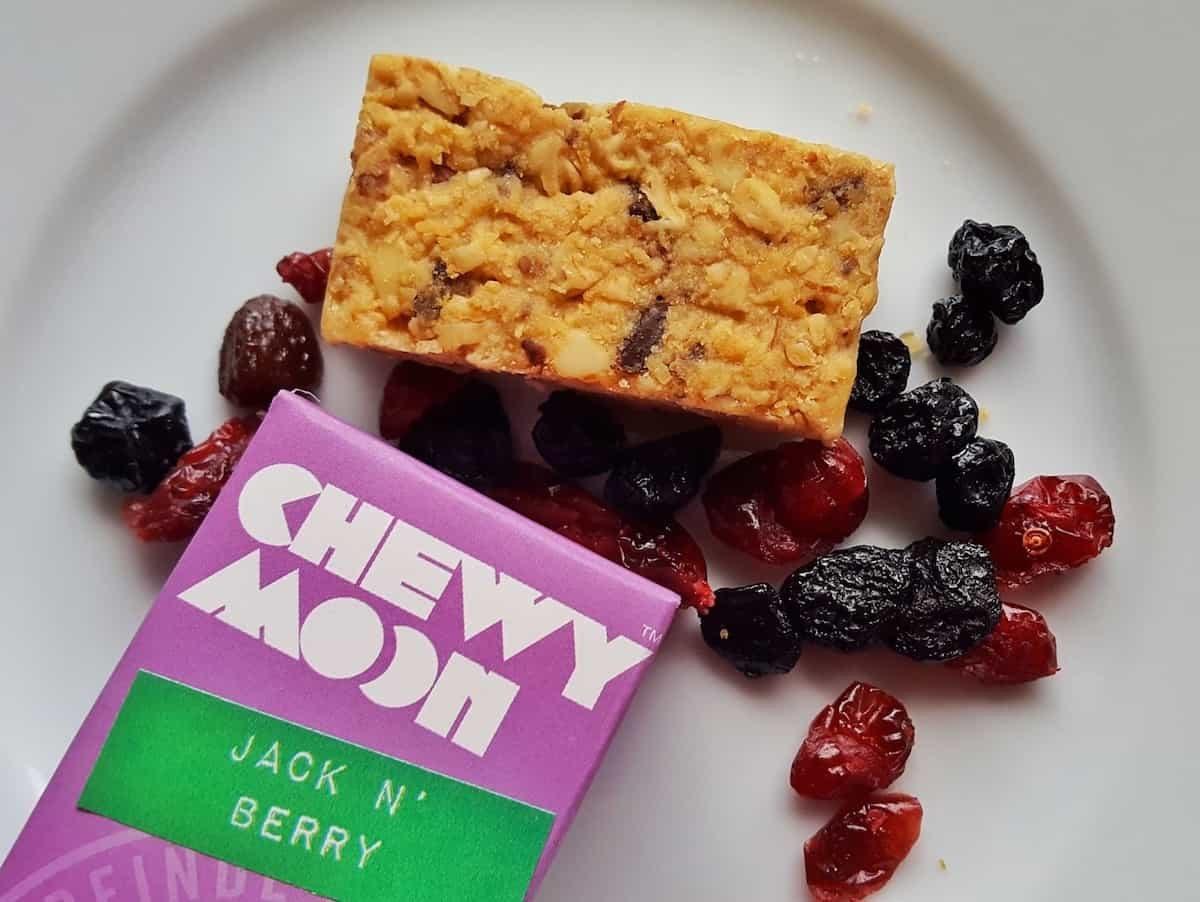 Each week, ChewyMoon deliver a box of five snacks to your door. They fit through the letterbox, so no need to wait in for delivery. Along with the snacks, the boxes contain some fun fact sheets, a comic strip, a cardboard cutout stackable toy and some leaflets with ingredients and nutritional information. They are all based on the concept of ChewyMoon land, where creatures called Moonas live. They've come down to earth to save children from the clutches of the junk food industry.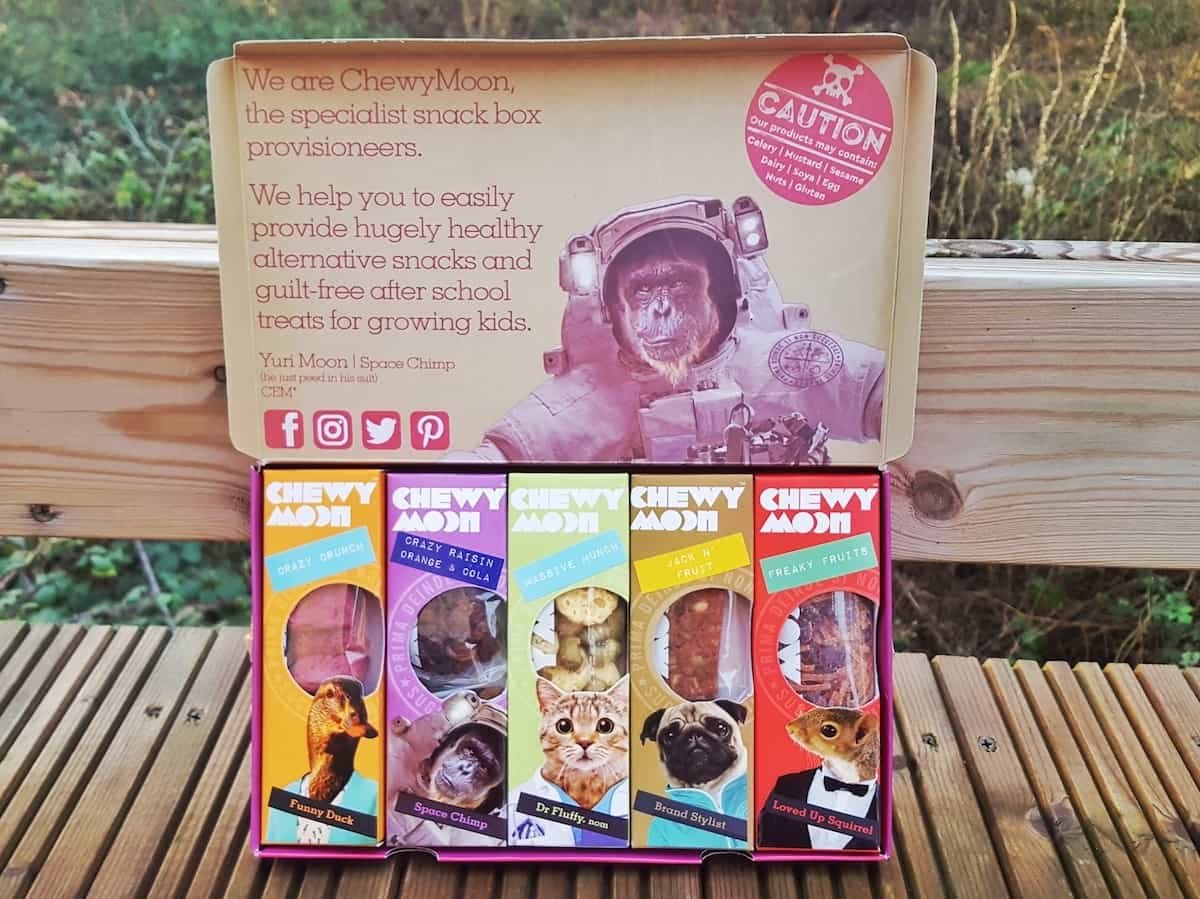 Once a month, a slightly larger box is delivered. Along with the five children's snacks, this one contains two snacks for adults. These are perfect for afternoon grazing instead of turning to chocolate or crisps. Another sweet touch is that the boxes have the child's name on the front. The boxes are decorated with pictures of cute yet rather cheeky animals. All in all, it is a really fun way to snack.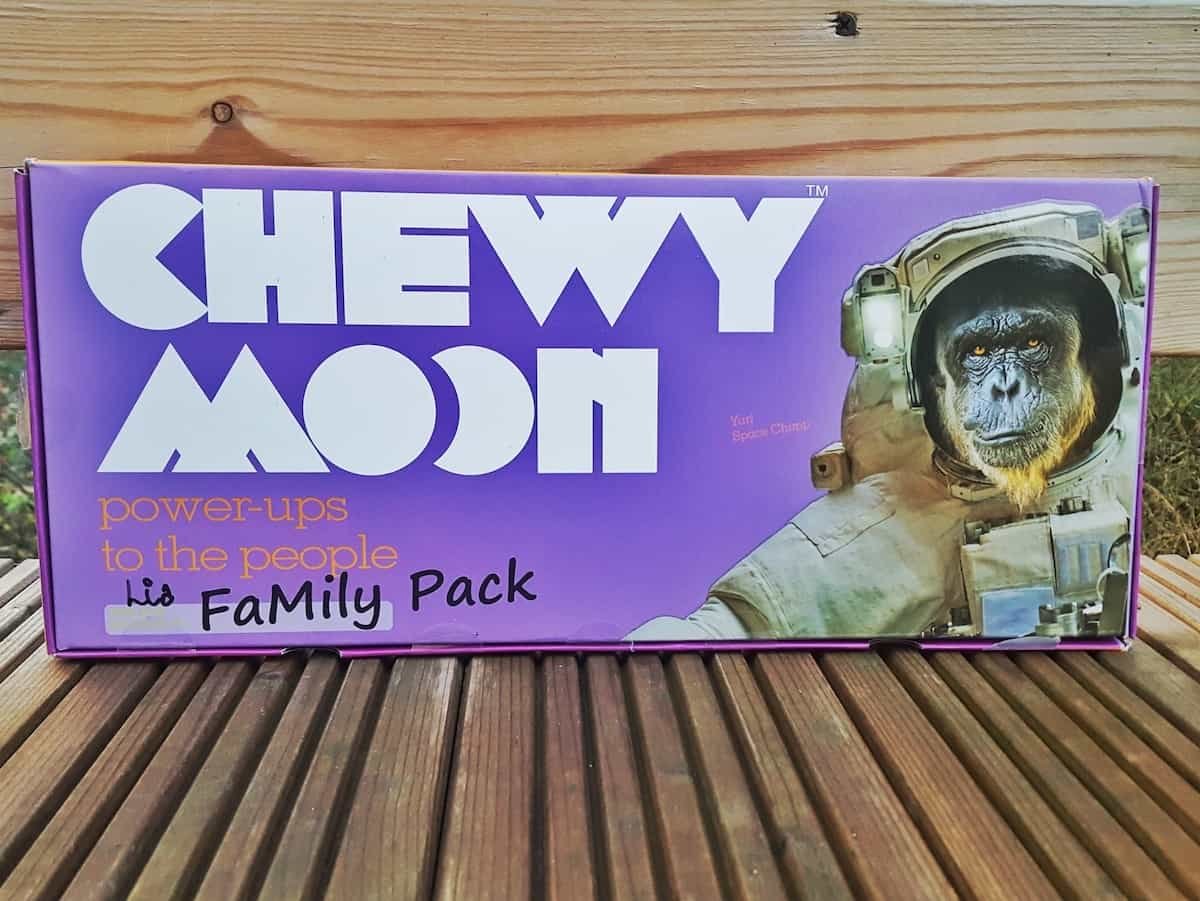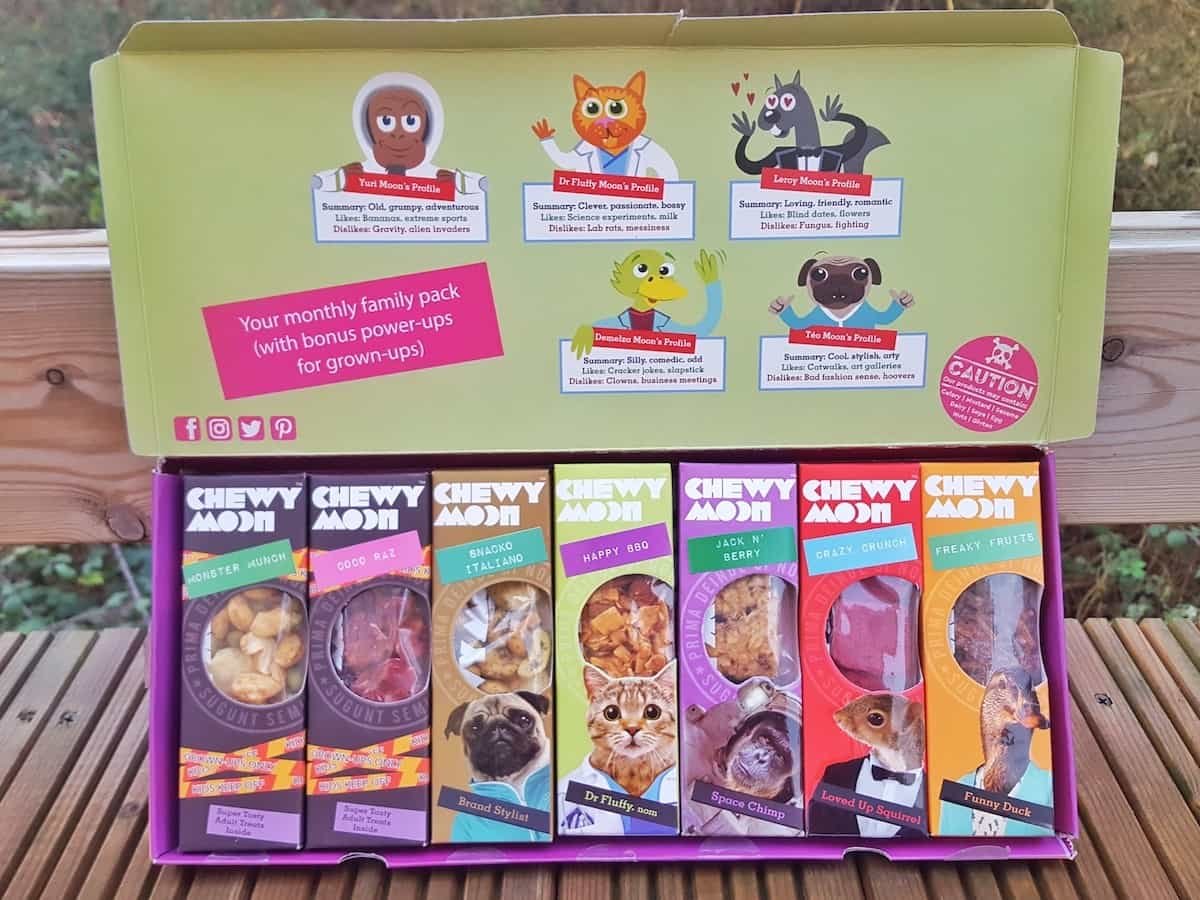 What we thought of our ChewyMoon snacks
Since our snacks were delivered, I've been taking them with me after school each day to pick up the girls. The snacks come in little individual boxes. Inside the box, there is a bag which is easy to tear open and the snacks are inside the bag. For my two, the packaging is a bit too complicated for them to open in the car. So I put their snacks into a little pot each and they eat them on the way to wherever we're off to after school.
I love the fact that the snacks are totally natural and designed by nutritionists. There have been a few occasions since having the children when I've been surprised that the food I've been giving them wasn't as healthy as I thought. Cereal is a great example – there's so much sugar in that stuff but you just don't realise.
I like the fact that there will never be that issue with ChewyMoon and I can be reassured that I'm giving them something healthy. It's worthy of note though that not all these snacks are vegetarian – I noticed on the ingredients that the baked cheese in some of them contains rennet. They're also not suitable for people with food allergies.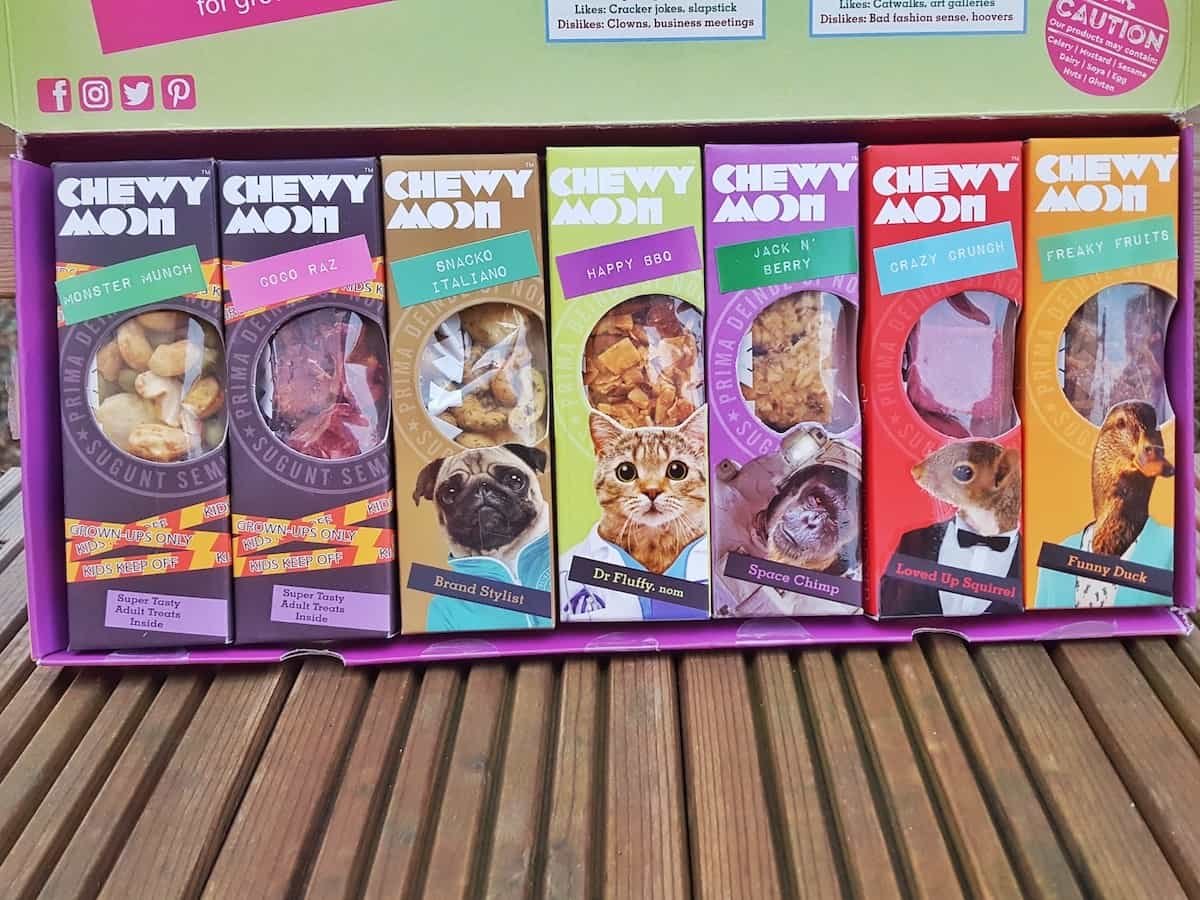 And as far as the children are concerned, the ChewyMoon snacks are amazing. They love having their little box each day in the car and they've enjoyed all the flavours. They're too young to read the facts and comics, but they enjoyed having it read to them. The best recommendation came from Libby though, when she asked for a box of ChewyMoon snacks instead of cheesecake for her pudding one day.
Try ChewyMoon snacks for free
The ChewyMoon subscription box only costs £4.93 per week. I personally think that's a great price for the amount you receive. If you like the sound of it, you can try it for free – you just pay 98p for postage. To try it, just head to their website.
Win a month's subscription to ChewyMoon
ChewyMoon would love to give you the opportunity to win a whole month's subscription of snacks. For your chance to win, you can enter using the Rafflecopter below. Please read my competition terms and conditions before entering. Don't forget to check out my other competitions too, there are some brilliant prizes up for grabs.
[AD] Paid collaboration