This weekend has been all about being outdoors. After all the excitement yesterday, the girls had an afternoon nap and then we decided to do something a little bit calmer.
We were lucky enough to be sent some gorgeous crafting materials by Sykes Cottages and invited to make some finger puppets.
They have the instructions on how to make them on their blog, and they've been kind enough to share them with us as well, so here they are: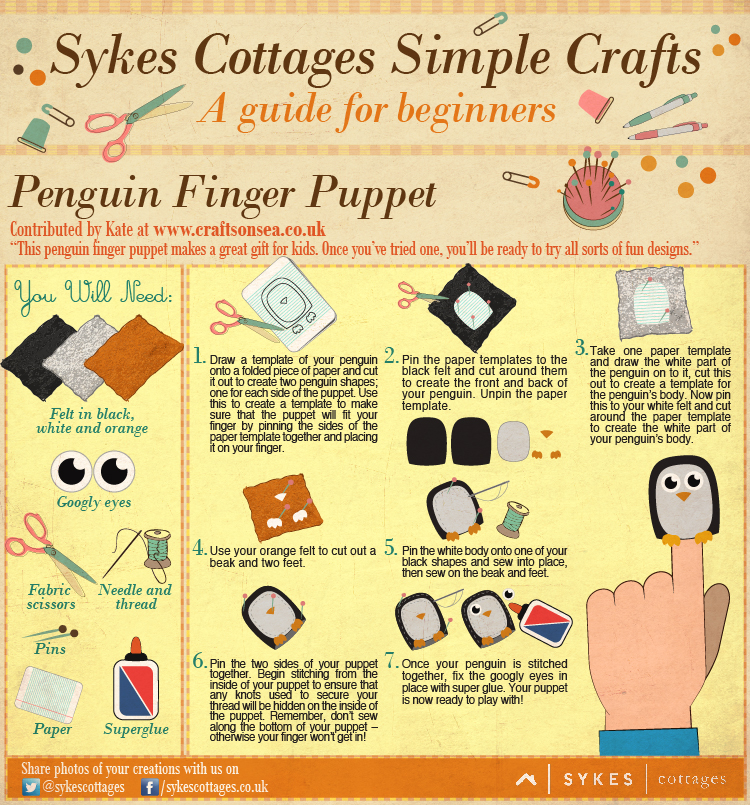 Now as you'll notice, the penguins are incredibly easy to make with quite basic materials.
Libby and I were assisted by some skilled (and some not so skilled) family members to make ours. We decided to glue the beak and feet on rather than sewing them because Libby could get much more involved.
Libby had a look through all of our materials and decided that she wanted to make one penguin and one flamingo.
I know, they're not quite perfect. Feel free to use your imagination.
Sykes cottages were kind enough to send us our very own finger puppet theatre as well, which Libby loved building with some help from her aunty.
She then put on a little show for us all with her penguin and flamingo.
You might notice that Libby's gluing wasn't quite perfect and the penguin's beak is a little wonky. This was mainly due to the excitement leading to her playing with it straight away rather than waiting for it to dry.
We've now re-glued it and she has proudly showed it to her Nan today and played with it again.
Lia is still a bit little for getting involved with making things, but it seems that the puppet theatre is just as much fun for a little one without a finger puppet – it's great for a game of peepo.
With half term coming up, this is a great activity for rainy days. It would be ideal for doing on holiday as well because you don't need too many things to make the puppets.
They're something that Libby will play with over and over again.
We were even sent a cute little book to write a story in about what our finger puppets would get up to. We haven't done that yet, but will definitely come back to it when Libby is ready for story telling.
What I love about this little finger puppet pattern is that it's so easy that children can get really involved. Slightly older children will be able to do the little bit of sewing themselves as well.
I also love that you can make various different birds and animals from the basic pattern.
We still have some felt and googly eyes, so we'll make some more finger puppets another time. I might even branch out and make a whole glove puppet with various different animals on.
I was quite amazed that Libby wanted to play with the crafts again today, despite being exhausted from a day that started with a bike ride and dog walk with some rather excited dogs, who I'm pretty sure were playing tag.
Please note: We were sent all the materials to do this craft and given a small gift for taking part. All views, opinions, crazy dogs, crafting skills and lack thereof are our own (with a little bit of help / hindrance from our family).