Before having the girls, sport was quite a large part of my life. As a child, I was a competitive swimmer with a somewhat all-consuming training regime. When I went to university, swimming took a back seat, but I never stopped completely.
Over the years, I became interested in different sports, most notably running, water polo and triathlon. When Libby came along, I still managed to continue with triathlons and water polo, but after Lia it was a different story.
Back in September last year, I decided it was time to get back into shape. I found a half Ironman that I wanted to do, but put off entering until payday because they are quite pricey. Unfortunately, between my decision to race and payday, my husband had a motorbike accident and everything changed.
Whilst things are a little easier at home now, they're unlikely to be back to normal for a couple of years, so my half-ironman has gone on hold for the time being. Despite this, I knew it was time to get back into shape and to do that, I needed a challenge.
I have entered a local half marathon. This sounds a bit lame, but it's a tough, hilly one. I just haven't got time to fit in cycling training as well as running at the moment. So to help me to get into shape for the event, I am trying out the TomTom Spark Cardio Music watch with bluetooth headphones.
TomTom Spark Cardio Music
Aesthetics
I've had a sports watch before that clocked my distance and speed and gave me a rough idea of calories burned. But this one is on a whole different level. Having seen pictures of the watch online before I got it, I thought it was going to look too large on my wrist. So, I was pleasantly surprised when it arrived and it actually looks great.
Whilst the screen is big, it's not too wide and doesn't have too much depth. This means that it has the functionality of a large screen without looking ridiculous. There are two different types of strap available, and the one I've got makes the watch look really sleek. It is also fully adjustable and comfortable to wear.
I really like the display on it as a watch, the digits are large and easy to look at. And at night, you just put your palm over the watch face to make the numbers light up.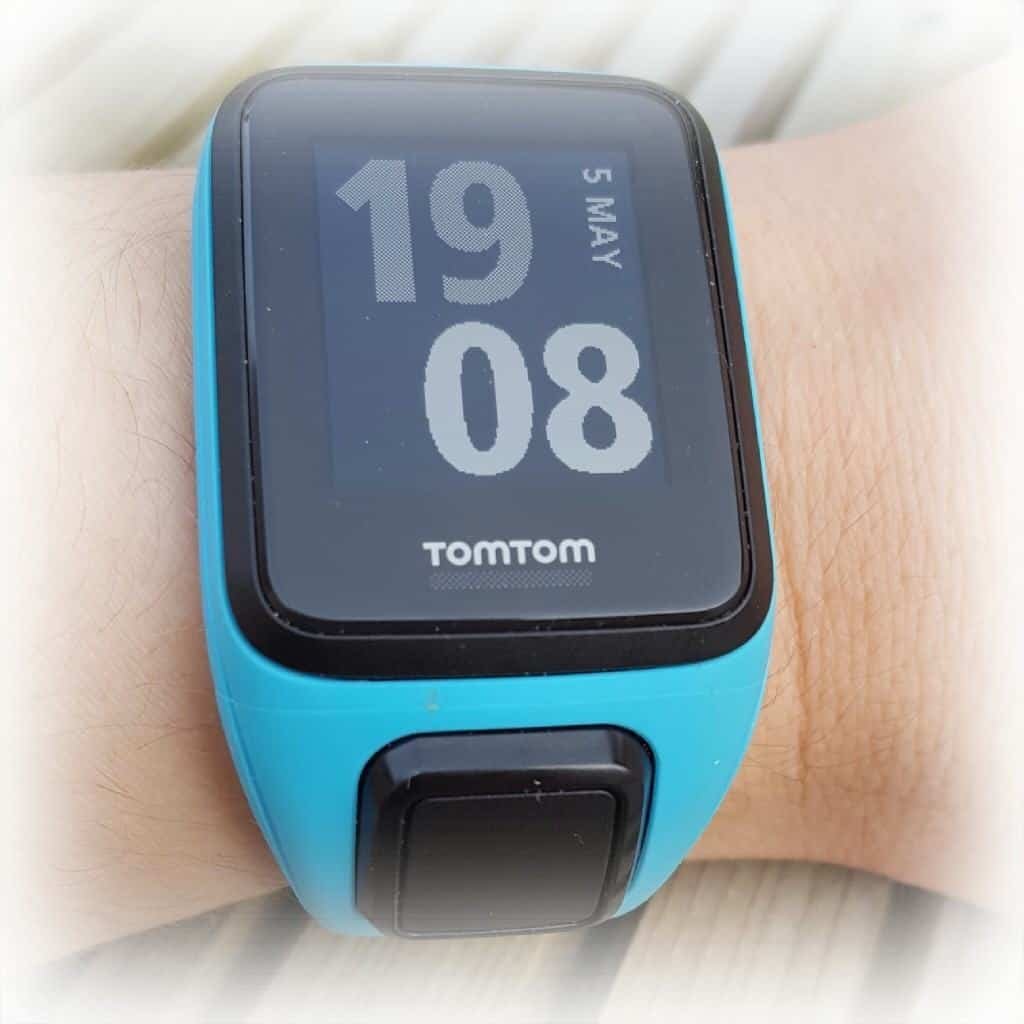 General use
When I am wearing the watch, it automatically counts my steps without the necessity to set it to record. I find this a really useful function because I like to make sure I have been relatively active on days when I don't run or swim. I used to have a pedometer on my phone, but it really drained the battery and to make it work, I had to have my phone on me all the time which just wasn't practical.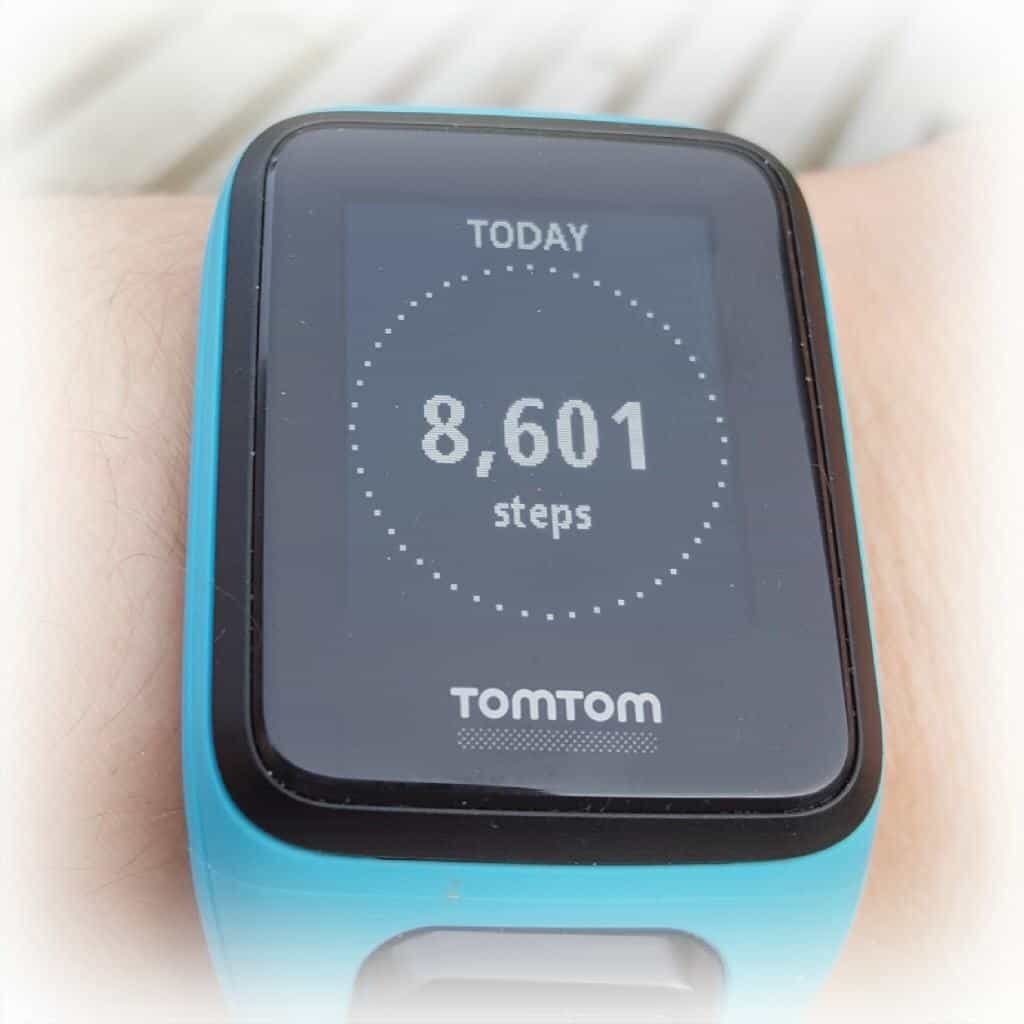 The other thing this watch does automatically is to record the amount of time you've slept for. This is based on movement, so you need to wear the watch to bed so it can pick up on the amount of time you've been still enough that it thinks you've been asleep. I've found this really useful, giving me some interesting data.
I'm not sure whether the watch is underestimating the amount of time I've been sleeping or if I'd been overestimating it. Take last night for example. I think I was asleep by around 1 am and I don't recall the children waking up much before 6.30 am. I know I was up at least once in the night to Lia and once to sort the dog out. I would therefore have estimated that I'd had around 5 hours broken sleep, but the watch says I slept for 3 hours and 49 minutes.
This does sound like it might be quite accurate, which worries me a little bit. This is a pretty normal amount for me, with the watch generally telling me I've been sleeping for around three to four hours a night. It has given me the kick I needed to try to get a bit more sleep, there's no way I can be functioning properly if I'm averaging under four hours a night.
Running
For me, running is where the TomTom Spark really comes into its own. It picks up the GPS signal easily with the press of a button. This is partly because you can update it with the location of the satellites to make it quicker for the watch to track where they are when it needs them. Once the watch has found the signal, it buzzes and tells you that it's ready.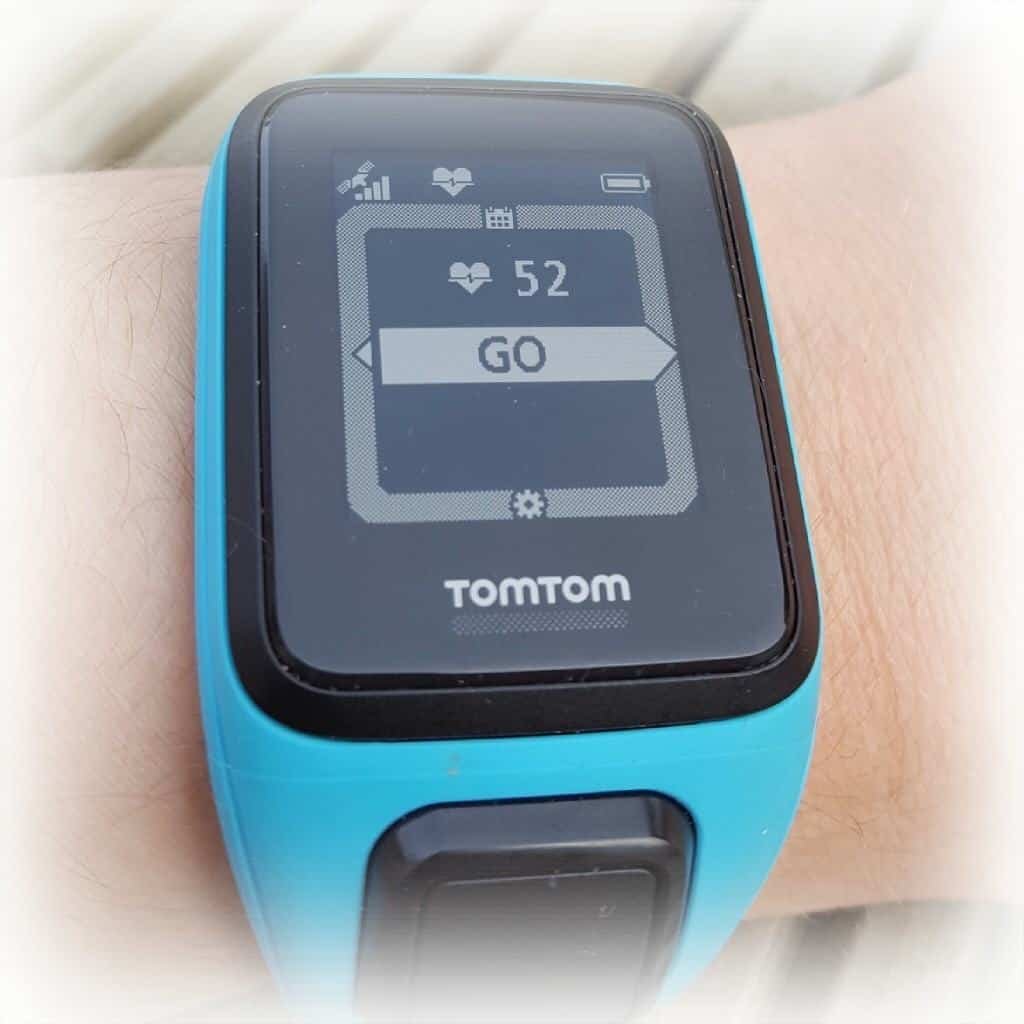 As soon as you get going, the watch starts recording your heartbeat from the heartbeat monitor that is on the watch itself. This information is combined with the age, weight and height details submitted onto the TomTom MySports app and the fact that the watch picks up your gradient. All this data allows it to accurately tell you how many calories you're burning during a run. I really like the inclusion of heart rate without having to wear a separate heart rate monitor.
Whilst running, you can change the screen to show information about time taken, pace, calories and heart rate. The digits are large enough to glance at whilst running without worrying about losing pace or falling over. I also like the fact that there is just one large button that can be pressed in four directions to access the menu. The button is well protected by the strap, so when I'm running with the dog lead around my wrist, sudden movements from Bubbles don't pause my run.
Swimming
When I agreed to review this watch, I was determined to include an open water swim as part of my review. What happened? Well, it snowed, that's what happened. Much as I am delighted to see the sunshine that has now moved in, I'm giving it a few more weeks to warm up before I get in the lake. I'll be swimming without a wetsuit so it's going to be pretty chilly.
In the meantime, I've tested the watch in the pool. I really don't know how it does this, but the watch knows both how many lengths I've done and how far each length is, thereby knowing my total distance. I know GPS doesn't work inside, so I have no idea how it's doing this – magic perhaps?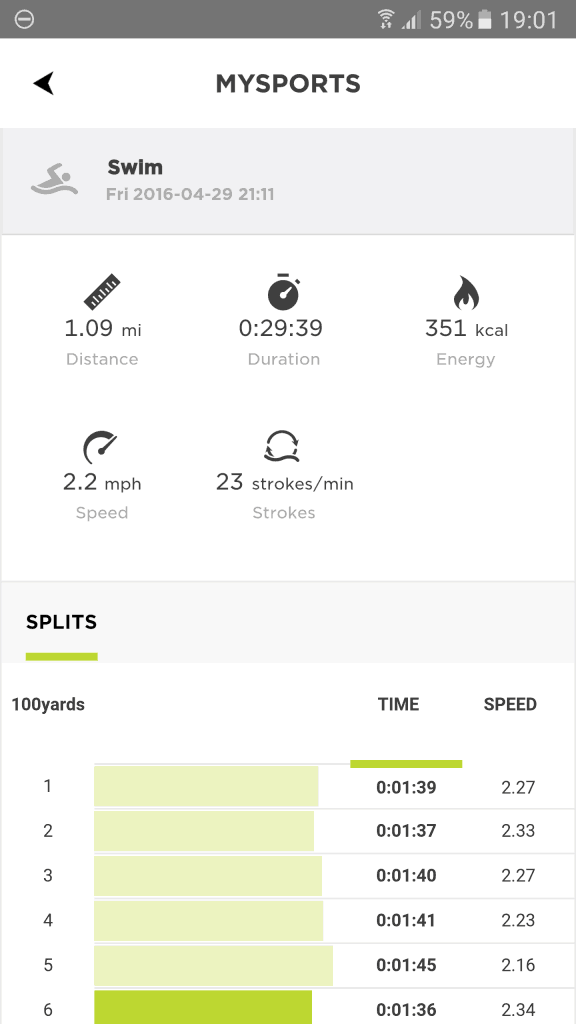 Either way, it's really useful. I've been timing myself swimming a mile and it gives me my distance and time by the end. So far I've knocked a minute off my (slow) time and I'm hoping to improve on that in the coming weeks. It is excellent being able to use the watch in the pool as well as running.
Cycling
At the moment, my bike is on our turbo trainer inside so that my husband can use it as well. I'm hoping to get back to cycling outdoors in due course, but for now I'm loving the function on the TomTom Spark that allows me to record indoor cycling. This is a distinct setting from cycling outdoors, so it doesn't require GPS to record your activity.
Other activities
The activities recorded by the watch are run, cycle, swim, treadmill, gym, indoor cycling and 'freestyle'. There is also a stopwatch function. I'm not sure what freestyle means, so I took it to be just any activity that you wanted to record. I therefore used it for walking and it happily recorded my distance, duration, energy, speed, elevation and heart rate. I did wonder afterwards if it thought I was dancing but it was useful to separate walking from running.
TomTom MySports on the desktop and phone
TomTom MySports is a great way to keep all your activity data in one place online. I connect my watch to the computer when I'm working and it updates with the activities I've done since I last plugged it in. Handily though, I can also use my phone to sync the data instead. This will be particularly useful when we're on holiday and I'm unable to sync it to the desktop.
Music
The watch comes pre-loaded with half an hour of really catchy, upbeat music that is perfect to run to. You can also load your own music onto it via your computer, up to a maximum of 500 tracks.
The TomTom Spark Cardio Music connects to most bluetooth headphones, but mine actually came with the headphones. It's really easy to sync the headphones to the watch, and the headphones are joined by a chord that goes around the back of your head but there is no chord attaching to anything so they stay in really well during activity.
I actually don't run with music, it's just personal choice but I prefer not to. That said, I do love the fact that I can play music from the watch, because it's perfect for indoor cycling and for when I'm walking the dogs.
Overall
I quite literally can't recommend this watch highly enough. In comparison to other sports watches on the market, it is quite high end in terms of price at £189.99 but it is definitely worth the extra money. It really does do everything I could possibly need from a watch. Other than for safety reasons, I don't need to run with my phone any more.
If you're like me and you don't really run with music, or if you don't need the heart rate monitor on the watch, there are other models available at a lower price point without these features. That said, whilst I would never have bought a watch that played music, I'm finding it more useful than I ever thought I would.
Please note, the TomTom Cardio Spark Music and headphones were sent to me in for the purpose of an honest review. All views, opinions, and really slow runs (it was uphill, don't judge me) are my own.