Bubbles is one of the most incredible dogs I've ever met. She's totally submissive to other dogs, obedient to us and even does as she's told by the children. She's the perfect running companion and a fabulous playmate for both Pluto and the girls. She knows basic commands and always comes when she's called. Her beautiful nature is likely to be due to her breed – she's a crossbreed but mainly Staffordshire bull terrier. And along with the incredible attributes her breed possess, she has also inherited the one bad habit. She pulls terribly on the lead. So did I want to test out a Meg Heath bespoke head collar that would stop that behaviour in its tracks? Of course I did!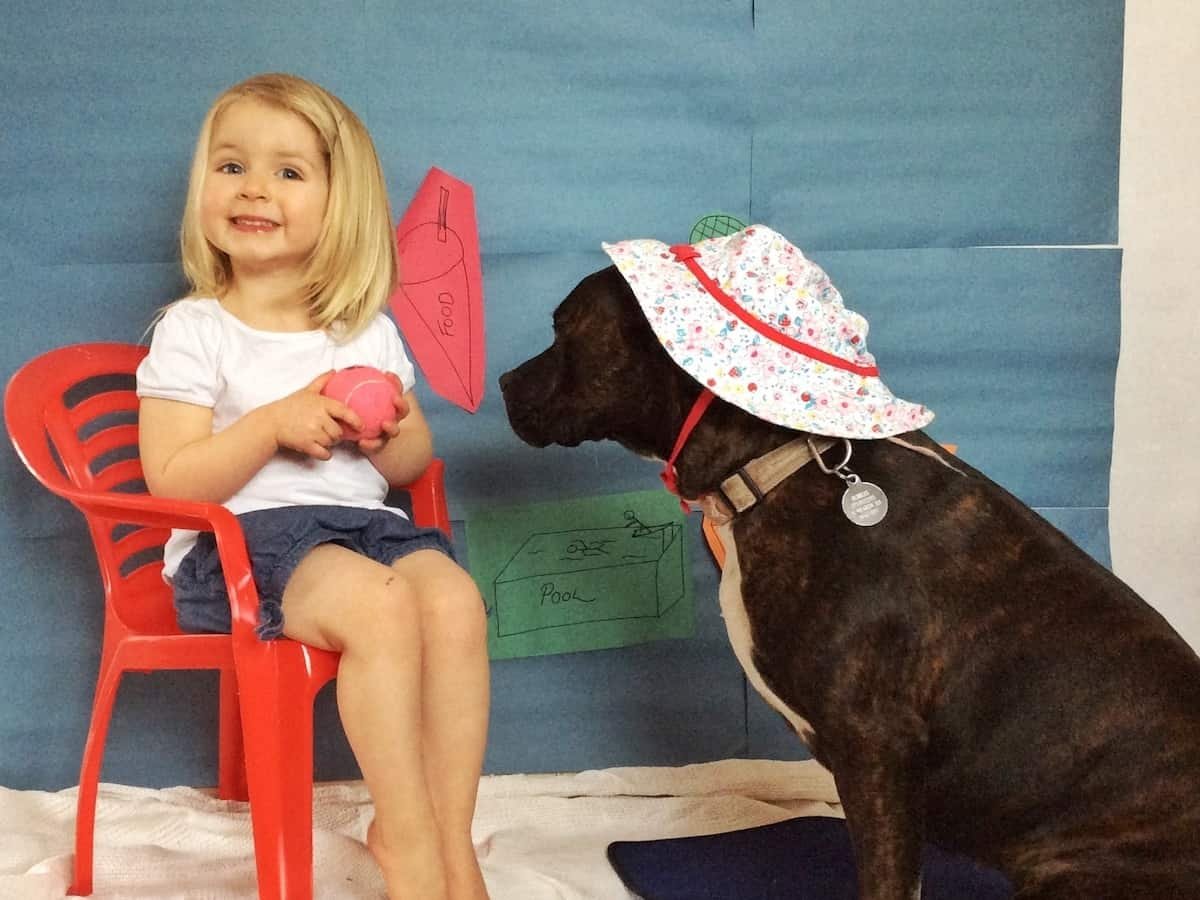 About Meg Heath bespoke
Meg Heath have been making bespoke dog leads, collars and training leads for over ten years. All products are handmade in the UK and Sarah who owns the business has a background in dog training. She is also a dog owner, dog rescuer and kennel owner. There's not much she doesn't know about dogs.
The website boasts a vast array of products and colours. Each one is handmade to your requirements. There is a simple form on the website allowing you to pick the size, colour and specifications of your product.
The Meg Heath simple leader head collar
This is the product that has revolutionised our life with Bubbles. That sounds a bit over the top, but it's true. Since she was about six months old, Bubbles has been a nightmare on the lead. She's not aggressive and doesn't pull constantly. But when she sees something exciting, she is a disaster zone. Even off the lead, she reacts to dogs and runners by sprinting like Usain Bolt. And I don't just mean she's fast, I mean she's upright – on two legs. On the lead, this translates to pulling, dancing, jumping and generally going mad. But look at the difference her new head collar makes!
The simple leader head collar is positioned around the dog's nose, under it's chin and it fastens around the back of the neck. It comes in three sizes and is adjustable for the perfect fit. You can have it in a vast range of colours and with or without padding. I decided on having the padding as I thought it may be more comfortable for my somewhat spoilt pooch. There is a ring underneath the dog's chin to attach the lead to, and this is what stops them from pulling.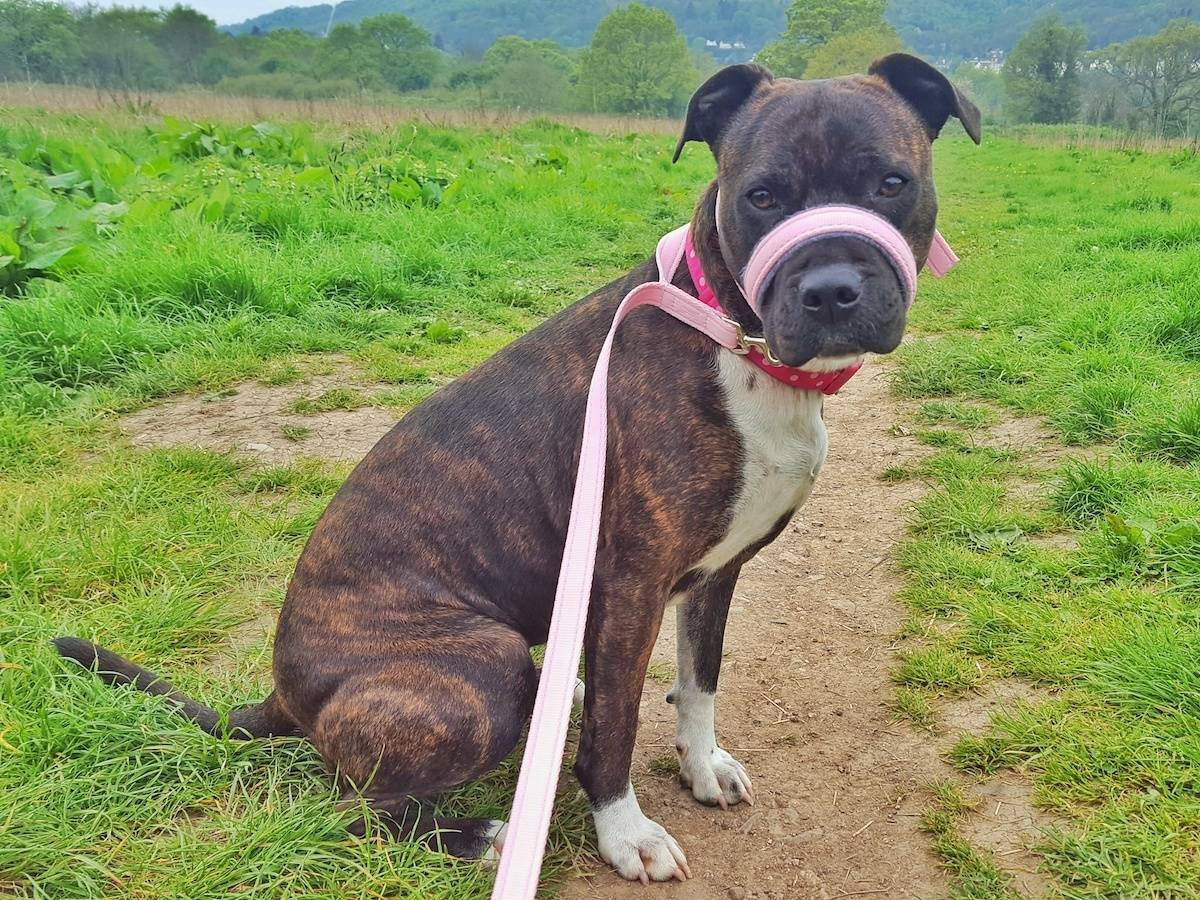 I chose a baby pink collar for Bubbles. I must admit this was partly due to my husband's fear that a head collar going over her nose would look like a muzzle and people would assume she was aggressive. This is the reason we've never had one before. She is the least aggressive dog ever. She has a horrible habit of running away screaming when she is nervous of a dog. I didn't want to taint her with the reputation of being aggressive.
The dog head collar safety lead
I was concerned that Bubbles wouldn't take to the head collar, but actually she didn't mind it at all. As soon as I put it on her, she started the rigmarole of trying to get it off. But this just showed me how much to tighten it. If she was able to get it off, it was a bit loose. It wasn't long before it was the right fit and she had got used to it, so it was time to put her on the lead.
The simple leader head collar is best used in conjunction with the dog head collar safety lead. One clip on the lead attaches to the ring under the dog's chin on the head collar, the other clip attaches onto the dog's usual collar. The lead can be left full length and held by the handle. You can also halve the length of it by attaching a clip on the handle to the dog's collar or head collar. Both the lead and the head collar are incredibly well made with high quality, durable material. The idea of this lead is that the dog is secure even if they manage to get out of the head collar.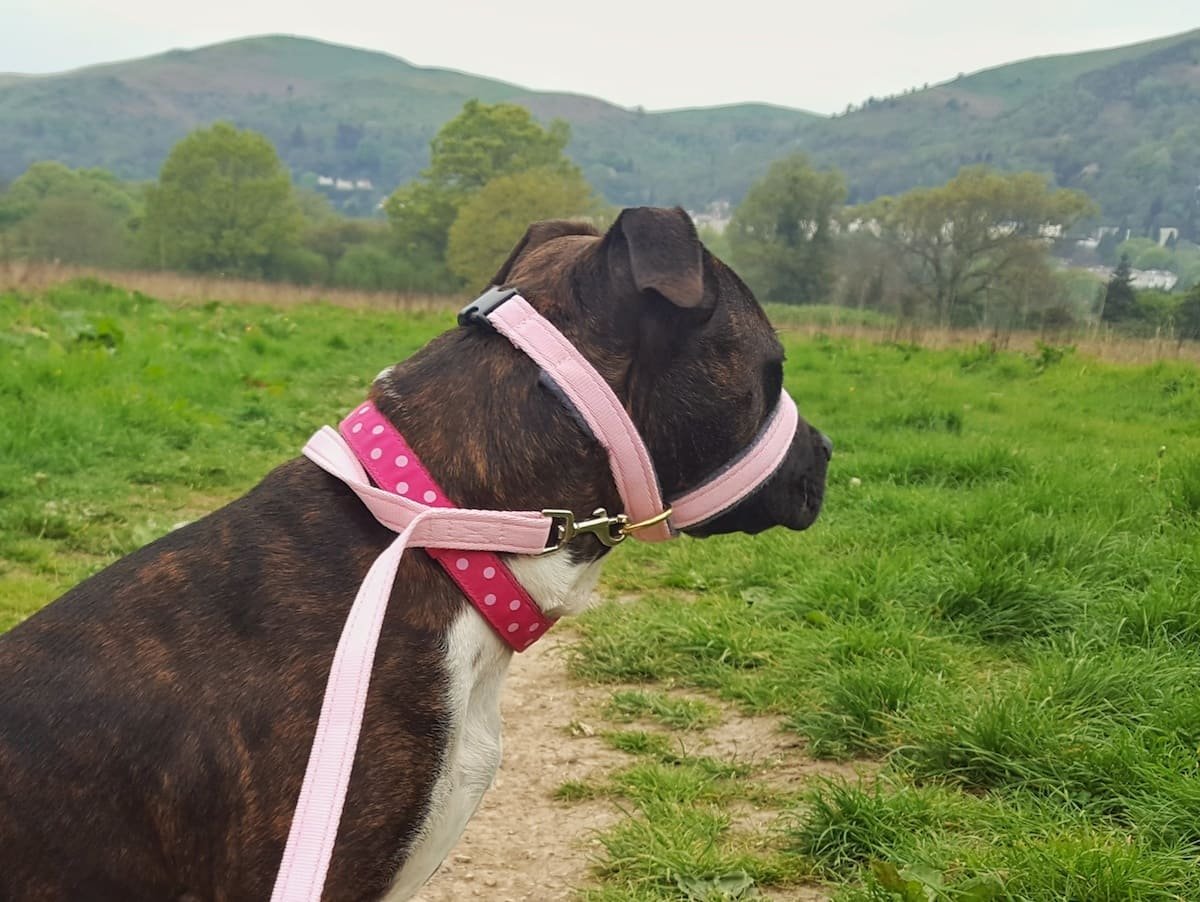 The verdict
I noticed the difference in Bubbles as soon as I clipped the lead on. She shook her head a couple of times but didn't even attempt to pull on the lead. If she does try to pull, her head turns slightly to the side but generally she doesn't even try. Walking her has been a much calmer affair for all of us. She no longer tries to jump on Pluto, I'm not constantly battling with her and she doesn't get worked up when she sees a dog. She seems much more laid back herself too, it can't have been much fun for her being so highly strung all the time.
The best thing of all has been the way her relationship with the children has changed. They can now walk her on the lead or run around with her. She's not pulling them all over the place and they don't get frightened when she sees a dog. I have had one ignorant comment from someone who said 'I can see which one bites' when he saw Bubbles in her head collar. But I'm past caring what people think. Bubbles seems happier and our lives are so much easier. Plus, I think she looks lovely with it on, don't you?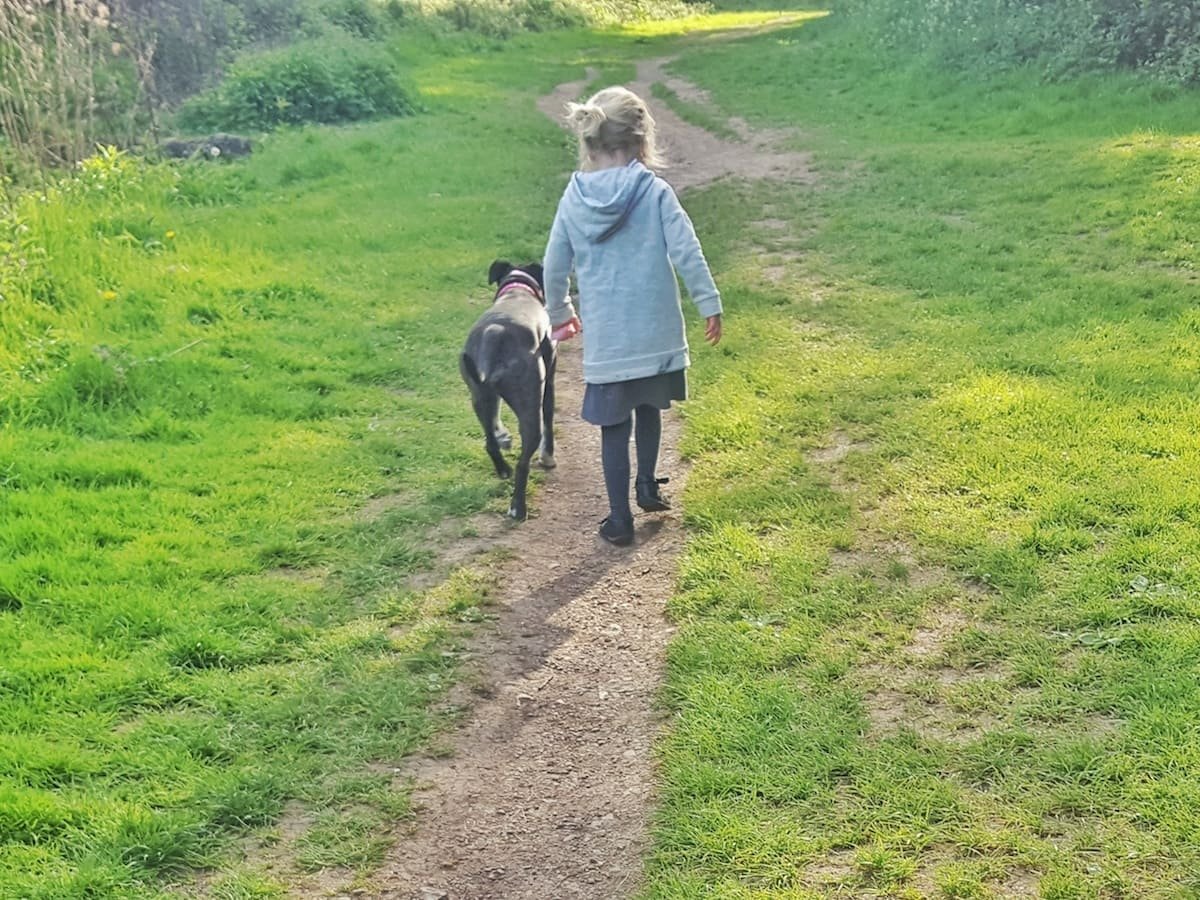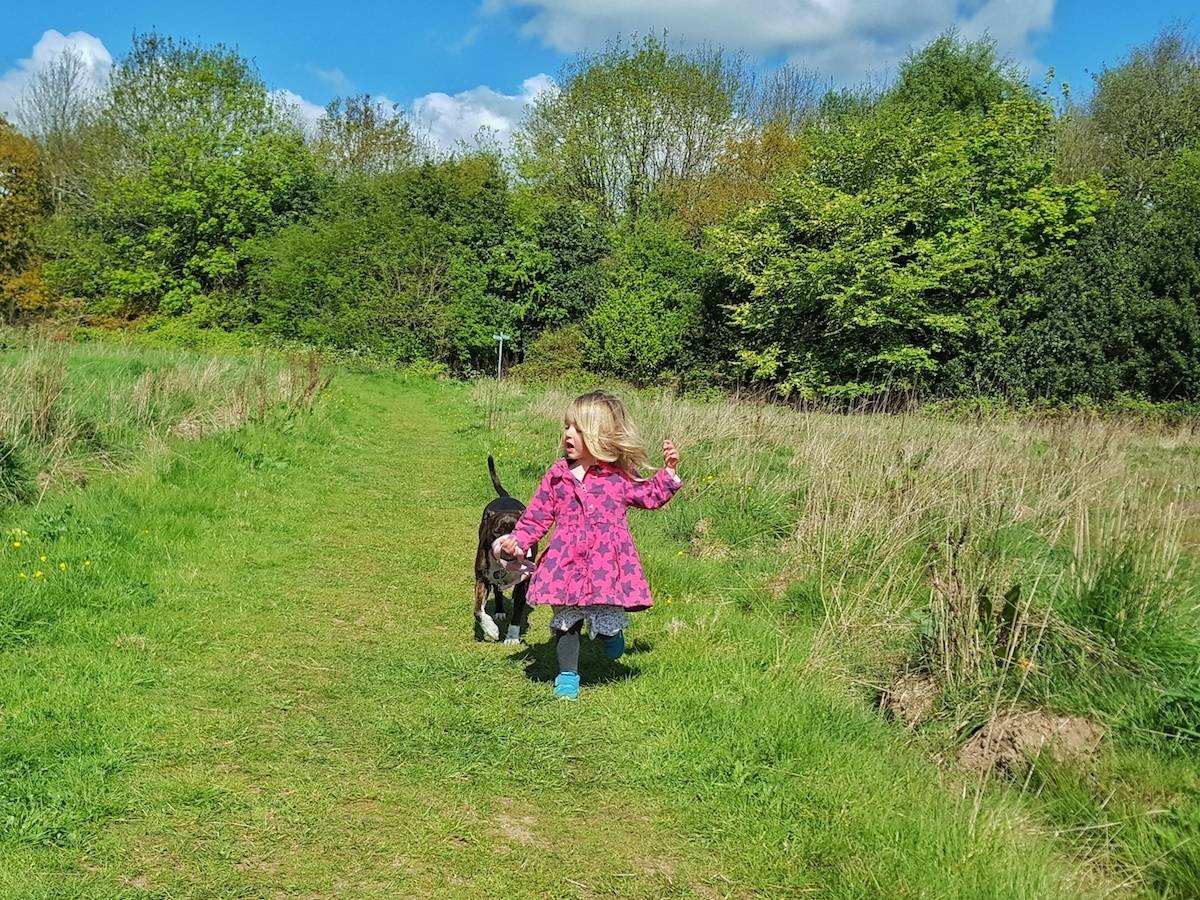 Win a Meg Heath bespoke simple leader head collar and safety lead
Meg Heath bespoke dog leads have agreed to give a head collar and safety lead to one reader. If you'd like to be in the running to win it, you can enter using the Rafflecopter below. Please read my competition terms and conditions before entering. Don't forget to check out my other competitions too, there are some brilliant prizes up for grabs.
Please note, these products were given to me free of charge to allow me to produce a blog post and I was compensated for my time. All views, opinions and notably calmer dogs are my own.