The summer holidays are at last upon us. All over the West Midlands, there are some incredible events happening for children and families. Here are the best ones I've heard about, do let me know if you have any to add! I've included website links for you to check dates, times and availability. For more things to do in the area from family or dog friendly attractions to ideas for a rainy day, head to my comprehensive list of things to do in the West Midlands. For ease, you can click on the area you're interested below in to jump to that section.
Things to do in Herefordshire during school Summer holidays
Berrington Hall National Trust
There's a big bad wolf hiding in the grounds of Berrington Hall this Summer. Grab a coat and follow the Red Riding Hood trail to follow in his footsteps and take the challenge to defeat him. The trail costs £2.50 including a prize for taking part. Normal admission costs also apply. Full information on the Berrington Hall Website.
Brockhampton Estate (National Trust)
Have you ever thought about how many nursery rhymes revolve around fruit? Me neither, but the National Trust are about to make you put some thought into it if you visit Brockhampton during the school Summer holidays. Put your mind to fruit related riddles and find out which nursery rhymes are based on fruit growing at Brockhampton. How many nursery rhymes do you know and can you identify the fruit? How many of those featured have you tried? Everyone completing the trail will be entitled to a prize. Full information on the Brockhampton website.
Croft Castle (National Trust)
Step into the pages of a childhood favourite book, Arthur Ransome's Swallows and Amazons this Summer at Croft Castle. Adventure around the grounds where they're recreating the story. Pretend to sail away from villainous pirates, learn survival skills and spend time outdoors, connecting with nature on the summer holiday trail. Full information is available on their website and you can read our review of a dog friendly family day out at Croft Castle.
Eastnor Castle
Eastnor Castle has always been one of my favourite local days out, but it's not open every day so do check the website for dates and times of events. There's all sorts going on this Summer, from circus skills to clay pottery workshops to a dinosaur show, survival skills and family fun days. All are on a few selected dates only. Check out my review of Dinosaurs at Eastnor. This is a really lovely day out that comes highly recommended.
Things to do in Shropshire during school Summer holidays
Attingham Park
Numerous activities take place at Attingham Park throughout the school holidays. From a deer park safari to find out all about the deer and other animals at the park, to geocaching and orienteering. Storytelling, a family wildlife day, dance and outdoor theatre ensure there's something for everyone. Do check the Attingham Park website for dates and details of events.
Hawkstone Park Follies
The Enchanted Trail continues at Hawkstone Park throughout the Summer. This magical trail through the landscape allows children to follow a beautifully illustrated booklet as they explore the Follies and their stunning surroundings. There's lots of interactive fun along the way, including climbing towers, a giant's telephone and mysterious caves. Look out for trolls as you collect leaves and other ingredients for a magic spell. There's even a pot of gold to find at the end of the rainbow. Children who complete the trail will find a magic word that entitles them to an Enchanted Trail certificate. Full details are on the Hawkstone Park Follies website.
RAF Cosford
From 1st July to 1st September, the Summer of Spitfire takes place at RAF Cosford. Two of the iconic aircraft will be on display, including the oldest one in the world. Visitors aged 13 and over can experience the thrill of flying a Spitfire in a new Virtual Reality zone. On certain dates, visitors will be able to climb into the cockpit of a spitfire or take a selfie with it. Full details and dates of this event are on the RAF Cosford Website. Nimrod tours also take place at Cosford on certain dates during the summer holidays. Visitors will be able to board the aircraft to learn about its history. Dates and details are available here.
Ray's Farm, Bridgenorth
Animal encounters are the main attraction at Ray's Farm this holiday. Horse grooming, guinea pig stroking and meeting a goat strolling around the farm will keep visitors amused. You could even watch staff training Peggy and Betty the pigs. A fox and gingerbread trail will lead you into the woods, and you can build a den or race up scramble nets in Fairytale Forest. Friendly owls visit on Sundays and the whole family will enjoy relaxing in the Shropshire countryside. Full details of the animal encounters can be found on the Ray's Farm website.
Things to do in Staffordshire during school Summer holidays
Alton Towers
The newest ride at Alton Towers for 2019 is great for tiny tots. The Peter Rabbit Hippity Hop combines favourite characters with just enough adrenaline. The story of the ride is that Benjamin Bunny has hidden from his friends in Mr McGregor's garden. Visitors join Peter Rabbit and Lily Bobtail to explore the garden and solve puzzles to try to uncover his hiding place. Then, they hop high into the sky to find Benjamin from the top! The usual rides and attractions for all ages are open throughout the Summer. For full details, head to the Alton Towers website. You can also read my review of a trip to Alton Towers theme park, water park and cBeebies hotel with little ones.
Drayton Manor Park
Drayton Manor's Summer of Fun offers various family events throughout the summer holidays. Better still, they have a 4 for £95 entry offer, making it cheaper to visit as a family. The details of their Summer events haven't yet been announced, but they will be available here. You can also read my review of a family day out at Drayton Manor.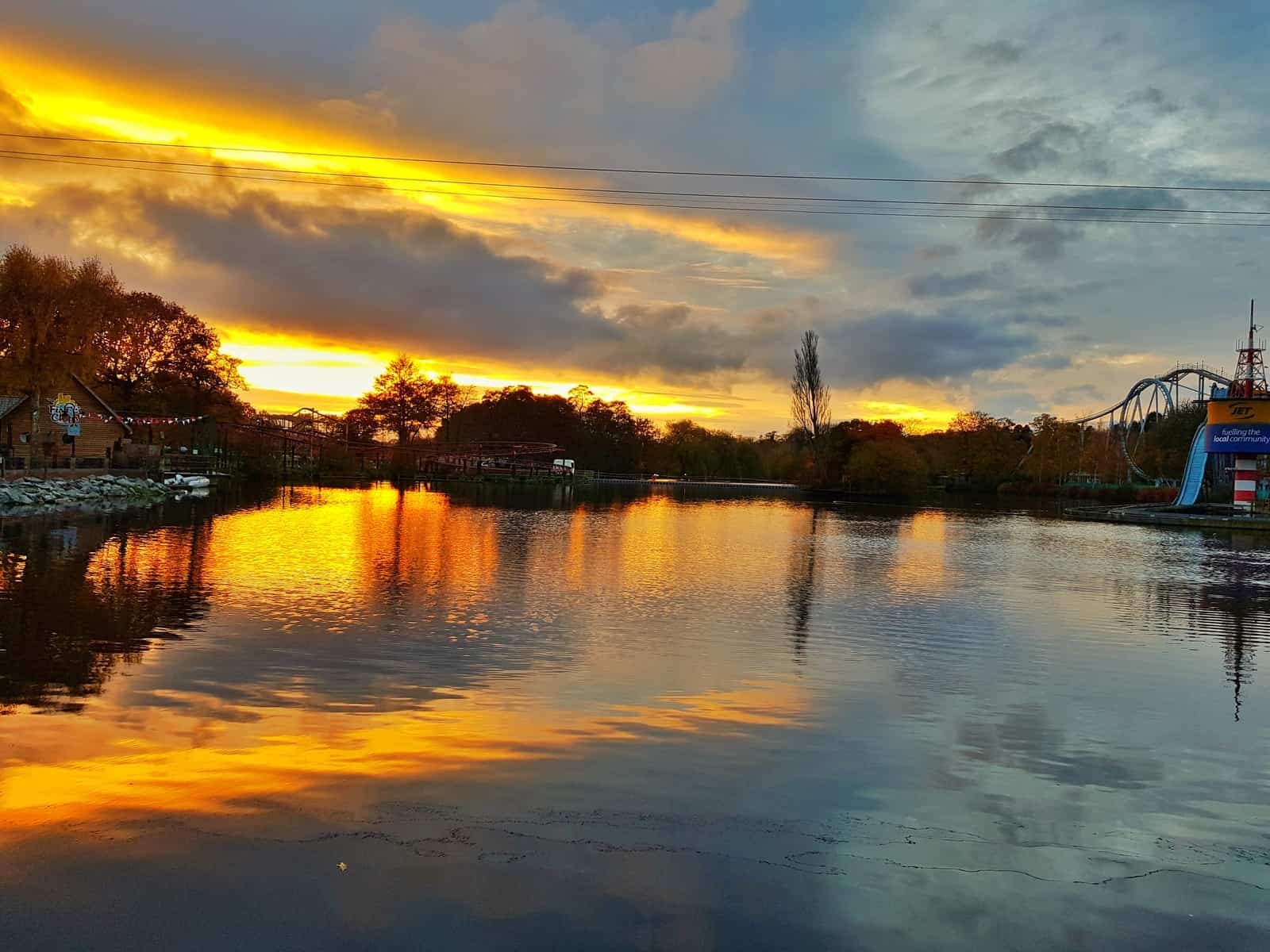 National Forest Adventure Farm
This Summer, the National Forest Adventure Farm is celebrating the 50th anniversary of the first moon landing. An out of this world maize maze will be open from 13th July to 2nd September. Solve space puzzles in the 10 acre maze to help the crew to fix their spacecraft and get home safely. Children can train as space rangers in an interactive walk-through experience before saving the aliens. Little visitors will enjoy the mini-maze, where they'll discover all the planets of the solar system hidden in the maze. The rest of the farm has its usual activities going on and you can read my review here. For more information on the exciting maize adventure, visit the National Forest Adventure Farm website.
Trentham Gardens
Visitors to Trentham Gardens can enjoy boat and train trips on selected dates throughout the Summer holidays. They're also running a kids club on Fridays, where children can stay and take part in Time4Sport activities. The fun and games include football, rounders, cricket, nature walks, laser tag and archery. Children can stay from 8.30am to 3.30pm and the cost is £20 per day. Full details of these and other events are on their website.
Things to do in Warwickshire during school Summer holidays
Kenilworth Castle (English Heritage)
This Summer, visitors to Kenilworth will find out what it was really like to work, live and fight in a castle. Learn to shoot bows and arrows and sword fight, or dress up as a lord or lady. Then explore the castle walls and let your imagination run wild. The Hands on History event takes place from 20th July to 24th August, then from 27th August to 1st September. Other events are also happening during the school holidays. Full details, dates and times of all events are on their website. You can also read my review of a dog friendly family day out at Kenilworth Castle.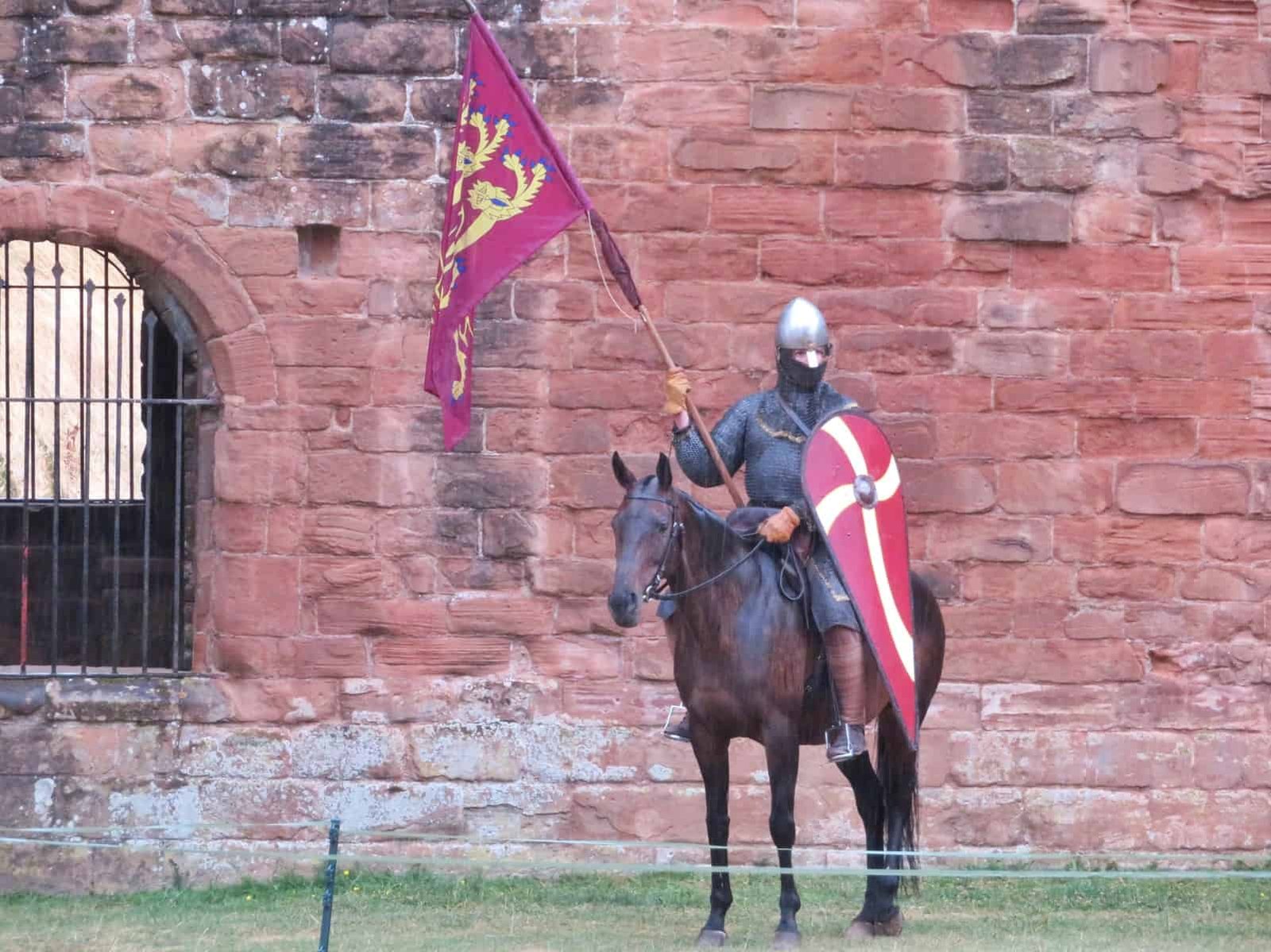 Royal Shakespeare Company
Each week of the summer holidays follows the theme of a different play at the Royal Shakespeare Company. Children can take part in age-appropriate workshops, look into the characters and see costumes from the week's play. Workshops and some other events need to be booked in advance. However, there are also free activities, tours and exhibitions available every day. Full details including workshops and weekly themes are on the RSC website.
Warwick Castle
The amazing Wars of the Roses live show is back at Warwick Castle during the Summer holidays. There are knights on horseback, incredible special effects and an atmosphere that gets the whole audience involved. On selected dates during August, there will also be exciting things going on during the evenings. The Dragon Slayer evening show features a twilight horse-led procession, jousting battles, pyrotechnics and a light show. Falcolner's Quest birds of prey show boasts up to 70 birds of prey soaring through the skies over the castle. Knight school takes place each day, as well as the Horrible Histories maze, Castle Dungeon and other family favourites. Head to the Warwick Castle website for full details and read our review of Warwick Castle's Wars of the Roses.
Things to do in the West Midlands (County) during school Summer holidays
Black Country Living Museum (BCLM)
Learn about historic Black Country heroes this summer at the Black Country Living Museum. From movie directors to politicians, you'll learn about all the heroes from the region's past. Notorious suffragette Red Emma's rallying call will ring out, and visitors can become an extra in an iconic James Whale Frankenstein film, or take part in a victory parade for Wimbledon winner Dorothy Round. Traditional family games and challenges will be on hand to entertain the children, as well as the usual favourites. Take a lesson in a Victorian school, experience an 1850s mine and try some traditional fish and chips. Visitors can extend their visit by staying late every Friday in August. Every visitor to the BCLM will receive 12 month's unlimited daytime visits for every entry ticket purchased. Head to their website for more information and read my review of the Black Country Living Museum.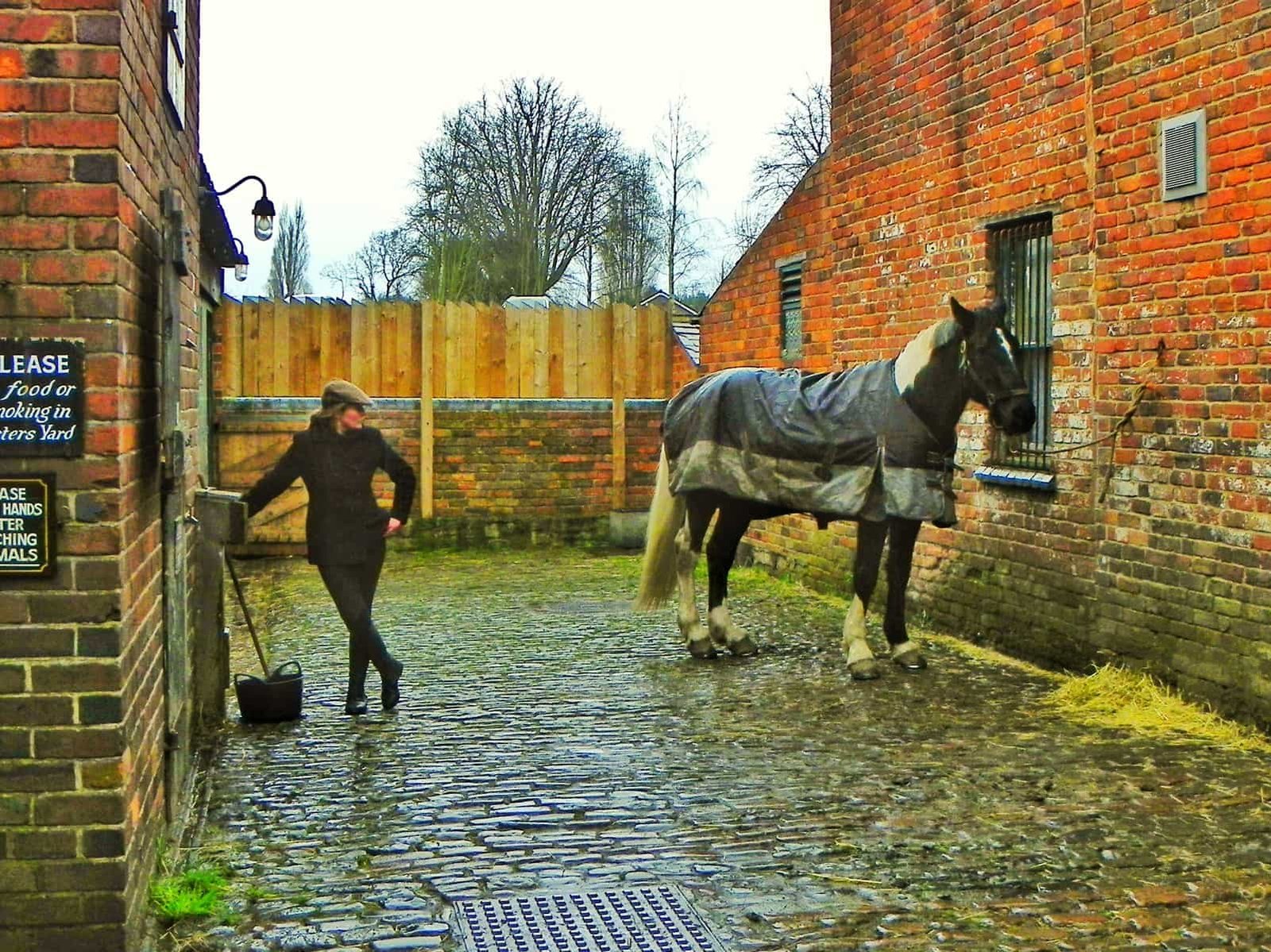 Cadbury World
Freddo takes to the stage this summer with his Treasure Trove stage show. Set sail with him to find out what it takes to become a pirate and discover Freddo's treasures. In 20 minutes, he'll get the audience walking and talking like pirates or they'll have to walk the plank. Laughs and goodies aplenty keep visitors entertained. Full details are on their website and you can read my review of a family day out at Cadbury World.
National Sea Life Centre
Will you accept the Sea Life mission to find missing treasure this summer? Choose to be a mesmerising mermaid or brave buccaneer and race the opposition to find six hidden treasures. Exciting items to discover in the tanks include a long-lost mermaid crown and pirate compass. Learn more about aquatic creatures on the way, including the newcomers to Sea Life Birmingham, two rescued seals. Children taking part in the trail will received a prize as a reward for their efforts. Full details are on the National Sea Life Centre website and you can also read my review of the National Sea Life Centre.
Things to do in Worcestershire during school Summer holidays
All Things Wild
As well as being a great place for a family day out during the school holidays, All Things Wild runs a lovely looking holiday club. Children aged 4-12 can book in for either a day or the whole week. In fact, the holiday club has proven so popular in recent years that this year, it's running for the whole summer excluding weekends and bank holidays. Available dates are between 22nd July and 30th August. Check the All Things Wild website for full details, prices and timings.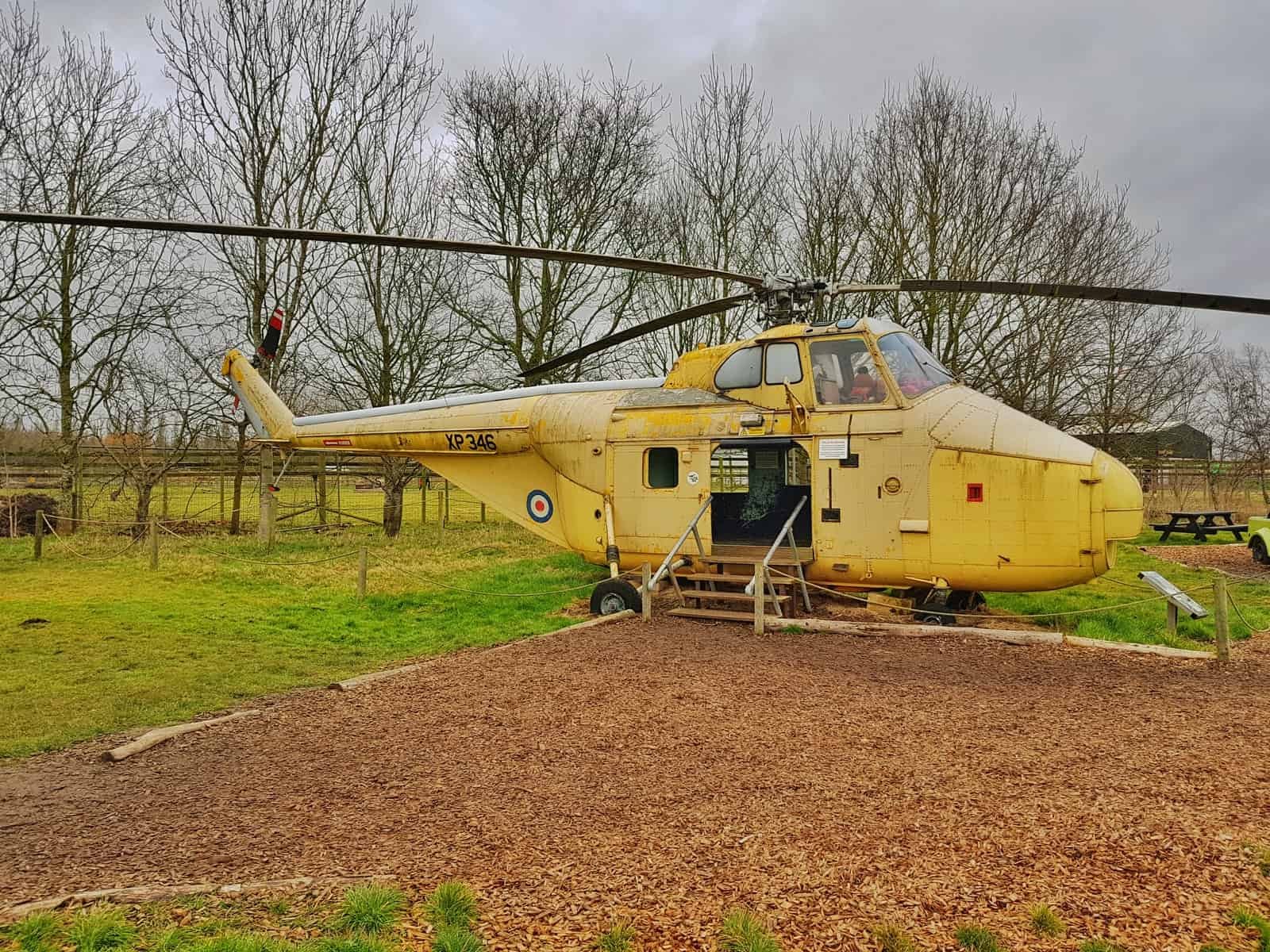 Croome (National Trust)
Children can become agents for the Ministry of Wild things this Summer at Croome. Help to map and track the wild wonders of the landscape and see what you discover. There's a reward for completing the trail. Face painters will also be on hand during the school holidays, so choose your favourite design and undergo a transformation. Full details of these and other events at Croome are on their website.
The Firs
Elgar's childhood home will be filled with music once more as children are challenged to mend broken instruments and create their own tune. Naughty Wand of Youth fairies have dismantled instruments around the garden. Children can put them back together and make their own music. If you enjoy the sound you create, make one of your own at the craft table. An additional fee applies for this. Full details of this and other events this Summer are on their website and you can read my review of a dog friendly family day out at the Firs.
Severn Valley Railway
Old fashioned British family fun is the order of the day on the Severn Valley Railway this Summer. At Kidderminster, take a selfie in a giant deckchair and enjoy Pimms and pic 'n' mix. Seaside shows take place every Tuesday, from Punch and Judy to magic shows. Thursdays are traditional fete day, with coconut shies, hook a duck and tin can alley. Disembark at Bewdley for a walking tour of the town to learn about its history. Arley has blankets and garden games on hand for a picnic, then you can do a treasure hunt, play pooh sticks or take a selfie at the Andersen shelter. A Hi-de-Hi theme greets you at the Highley engine house, with singing and dancing from the yellow coats. The other stations have traditional activities going on too, and passengers can grab a retro booklet to play eye spy on the train. Check the website for the timetable and to book.
Spetchley Gardens
A special children's trail helps visitors to discover an enchanting hidden world of elves and fairies this Summer. Collect a map from the welcome centre and start your search for hidden doors. Maps are included with admission from 4th May to 29th September. Full details of this and other events are on the Spetchley Gardens website.
West Midlands Safari Park
It's all about the Summer nights at West Midlands Safari Park from 1st August to 1st September, with rides open until 7.30pm. Last entry is 6pm and the African village closes at 7pm. You can check opening times and dates on the Safari Park website and read my review of the West Midlands Safari Park.
Witley Court (English Heritage)
Visitors to Witley Court from 20th July to 1st September can get hands on with history. Revisit the heyday of a great country house and find out what life was like for the lords and and their servants. Meet a butler, make napkin art and take a lesson at etiquette school. Other activities are also taking place, as well as the glorious grounds and ruins to explore. Full details are on the Witley Court website and you can also read my review of a dog friendly family day out at Witley Court.