Every time we have a day off with the children, I find myself trawling the internet trying to decide where to go. So I thought I'd put together a list of family friendly days out in the West Midlands. Do let me know if I've missed any, I'll be happy to add them. Some of these West Midlands attractions aren't open all year, so I've included all website links so that you can check opening times for your visit. You may also be interested in my West Midlands dog friendly days out.
Update for summer 2020
As you can imagine, things are a little different this year to usual. Some of these attractions have reopened but sadly some remain closed. I have put together a couple of posts specific to this summer. Firstly, things to do in the West Midlands, summer holidays 2020 which lists what's open now and when other attractions are reopening. Secondly, I have put together a similar post for attractions reopening this summer across the UK.
West Midlands attractions for rainy days
Here's some inspiration for what to do on a rainy day in the West Midlands. You can also head over to my comprehensive list of rainy days out in the West Midlands.
Cadbury world – Bournville, Birmingham. This attraction near Birmingham in the heart of the West Midlands originated as a self-tour attraction to learn about the making of chocolate. These days, there are loads of other activities on offer too. Including a 4D cinema, adventure play area and a mini theatre. There is a small area outside but the majority of the attraction is indoors so it's ideal for a rainy day.
Royal Shakespeare Company (RSC) – Stratford Upon Avon. I never would have thought of the RSC for a day out with children until we visited The Play's The Thing last year. This is an interactive exhibition for children and adults alike. It is one of many activities available for children at the RSC, as well as their regular theatre productions.
Thinktank Birmingham Science Museum – Birmingham. This museum in the heart of the West Midlands is the perfect way to bring science to life for children. The popular West Midlands family museum offers everything from steam engines to robots. There is a planetarium, science garden and numerous hands-on exhibits and historical collections.
Inflata Nation – Birmingham – Inflata Nation is a huge room full of inflatables. Their website describes it as an "inflatable theme park". I would say it was more comparable with a trampoline park. It's done in the same style, whereby the whole room is a massive inflatable. So, even when you're walking between the activities you're on an inflatable platform. You can pay to bounce for either an hour or two hours so this isn't a full day out. We found that an hour was plenty for us.
MAD museum of mechanical art and design – Stratford Upon Avon. This is a museum displaying interactive pieces of mechanical art with a particular focus on automata and kinetic art. They have sculptures from world renowned artists and each one demonstrates both movement and beauty. The museum arranges special activities for children during school holidays.
Stratford Butterfly Farm – Stratford Upon Avon. This is a lovely way to explore nature even on a rainy day, since the attraction is indoors. As well as a butterfly flight area based on a tropical rainforest, there is a discovery zone to learn about butterfly life cycles. You can also see one of the largest insect collections in Britain at the Minibeast Metropolis.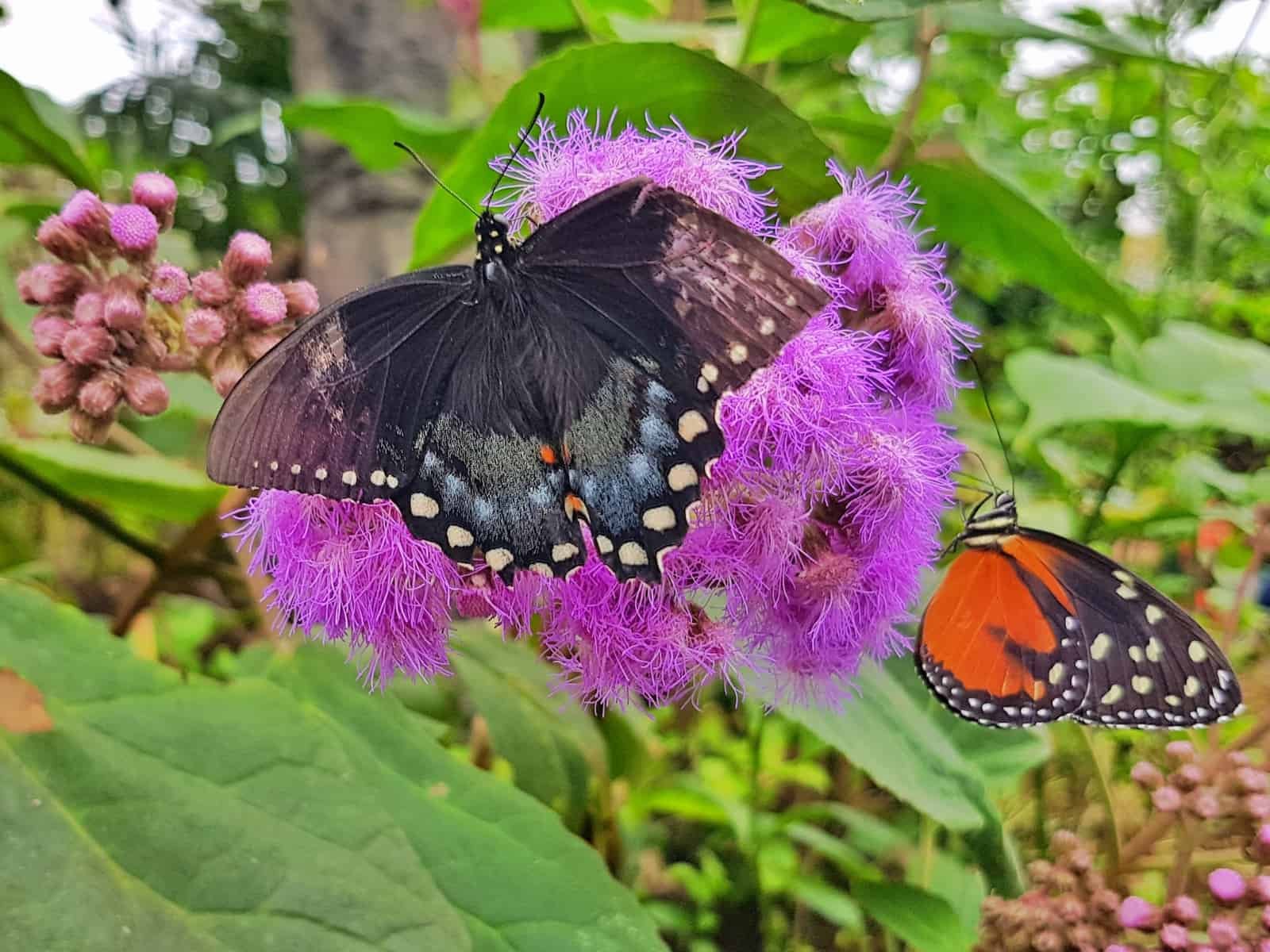 Eastnor Pottery – Eastnor, Herefordshire. Children and adults alike can learn the art of pottery in the grounds of the beautiful Eastnor Castle Estate. Eastnor Pottery cater for parties, run workshops and have family drop-in sessions. Booking is advisable for all pottery experiences including drop-in sessions.
Snowdome – Tamworth. The Snowdome is one of my favourite West Midlands attractions because I learnt to snowboard there and spent many happy hours zooming down the slopes. But as well as teaching skiing and snowboarding, the Snowdome have other activities that are perfect for families. Children will love sledging, tobogganing and tubing and you can even just enjoy playing in the snow. There is also an ice rink, pool, fitness studio and spa.
Waterworld – Stoke on Trent. Waterworld is an enormous leisure swimming pool that is widely accepted to be one of the best in the country. There are assorted slides from enormous flumes to toddler slides and everything in between. You can enjoy the waves, ride the space bowl or the rafts, float on the rapids or play in the interactive jungle house. This is suitable for children of all ages and there are special parent and toddler sessions during off-peak times.
Wye Valley Butterfly Zoo – Symonds Yat West, Ross-on-Wye. The butterfly zoo is a large butterfly house that holds butterflies from all over the world. The butterfly zoo is heated by renewable energy and the owners support butterfly conservation projects. A trip here can be combined with a visit to a maze and crazy golf, with discounts available for combination tickets.
National Sea Life Centre – Birmingham. We love the National Sea Life Centre, it is our go-to West Midlands attraction for rainy days. We have been ambassadors for them in both 2015 and 2016. This enormous aquarium is home to fish, sharks, an octopus, penguins, a sea turtle and otters as well as numerous other species. There are always events going on and my children find something different that they love each time they visit. Find out why we're so fond of it in a recent review.
Silver Blades Ice Rink – Solihull. I remember ice skating here as a child and it's the perfect wet-weather activity. They are open 7 days a week and host birthday parties, give skating lessons and you can even learn to play ice hockey. This is in addition to public skating, ice discos and special events.
Ice Quest ice rink and laser quest – Malvern, Worcestershire. Here you can take part in both ice skating and laser quest at the same venue. Birthday parties are also available. You will need to check opening times online as the ice rink is only open at certain times of the day. Skating aids and bob skates are available for young children, skating aids should be booked in advance.
Glazydayz Pottery – Ledbury, Herefordshire. This is a pottery studio where you can choose a piece of pottery to paint. They have a baby area and a play area so when children have finished painting, they can still enjoy Glazydayz. Perfect for parents who would like to paint something as well. Adults are welcome to paint pottery as well as children and they can also do hand and foot prints for babies.
Best places in the West Midlands for outdoor fun
Malvern Hills Geopark – The Abberley and Malvern Hills Geopark is one of the most beautiful natural areas in the West Midlands. It stretches across four counties, covering a 1250 square kilometre area. On their website there are activities, places to visit and information about the geology, wildlife and heritage of the area. You can also find a variety of walking trails, with options suitable for any age and level of fitness. Here are my recommendations of Malvern Hills walks.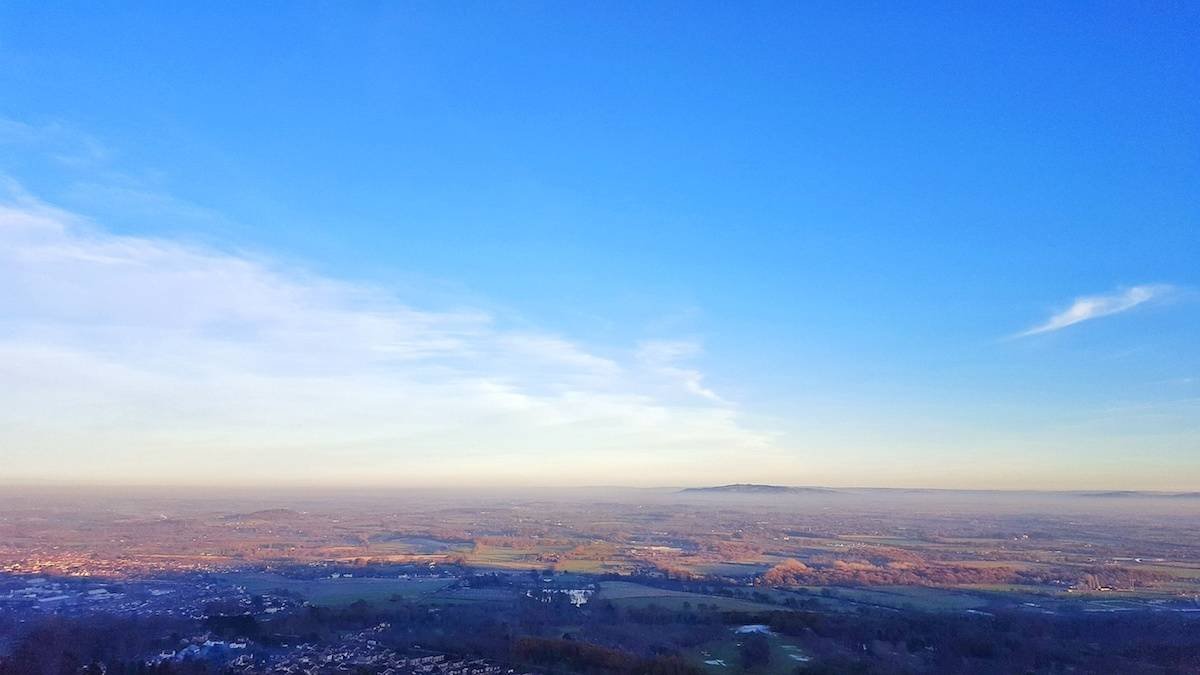 Trentham Gardens – Stoke-on-Trent. Trentham is an award-winning garden that has an adventurous edge. As well as the beautiful gardens designed by Capability Brown, you can enjoy a lakeside walk with the fairies or take the children to the adventure playground and the maze. There's even a barefoot walk and a miniature train. This is a dog-friendly attraction.
Baggeridge Country Park – South Staffordshire. This is a 150 acre country park located in the Black Country. It is the perfect place to see diverse wildlife, go camping or just pop into the tea shop for a cuppa. If you're feeling a bit more adventurous, you could try horse riding, explore the children's adventure playground, go mountain biking or take a look at the miniature railway. Other activities are available so do have a look at their website.
Acker's Adventure – Birmingham. There are loads of activities available at Acker's Adventure and they are all pretty exciting! You can ski, snowboard, zipline, climb or kayak. There is also orienteering, archery and adventure trekking. You can visit for the day or stay over on a residential course. This experience isn't for the faint-hearted.
Wonderland – Telford. Wonderland is a place where fairytales and nursery rhymes come to life. There are rides, a dinosaur walk, crazy golf and a year-round Christmas village. The location is within a large woodland area, but there is also a soft-play area indoors if the weather does turn against you. Wonderland hosts various events during the year so it is worth checking before you go.
Llama trekking – Ewyas Harold, Herefordshire. Adults and children will enjoy this unusual experience. You help to call your llama from the field and put it on a tether, before leading it on a walk through the village. Unlike pony trekking, the llama walk is done in small groups with only one party at a time, so it would be a great way to spend time with just your family – along with a llama expert of course.
Worcester Woods Country Park – Worcester. The Worcester Woods Country Park consists of 100 acres of both woodland and meadows. There are well defined paths with short trails ideal for young children, and longer trials that adults and older children will enjoy. At the Orchard Café, you can buy hot drinks, snacks and healthy meals. There is also a small play area inside for young children and a large park outside, as well as a sports field and small train and other attractions that run during peak times only.
Croft Farm Water Park – Tewkesbury. This is a lovely, relaxed place to learn a variety of water sports. They have instructors and equipment available for windsurfing, sailing, power boating and canoeing. There is also both camping and accommodation available if you decide to go for a few days. There's no mention of it on their website but I used to swim quite regularly in the lake there too, so hopefully that will be available again this summer.
Plantasia and Mazeworld – Warwickshire. This is a predominantly outdoor attraction with lots of animals to meet and a treetop trail. The Mazeworld part is made up of six mazes, each one themed around a different continent. Adults may enjoy a trip to the on-site garden centre too. Head to their website to find out what's on and what to wear for your visit.
Hawkstone Park Follies – Shropshire. I've always been a fan of Hawkstone Park. The follies are built around sandstone cliffs in a lovely area of countryside with views stretching for miles. The walk between the follies is quite taxing, but you can take a warden safari in one of their jeeps if you're not up to the walk.
Go Ape – Wyre Forest. There are numerous Go Ape sites around the country, this one is located in forest land on the border between Worcestershire and Shropshire. You will enjoy a two to three hour adventure in the trees with zip wires, rope ladders, Tarzan swings and other obstacles.
Arctic Quest Dog Sledding – Tewkesbury. This is an opportunity to interact with the huskies, learn about them and how dog sledding works. Then you'll be trained to use the racing rig to run the dogs. If you prefer to stay a little longer, traditional overnight accommodation is available. There are separate programmes available for children and people with additional needs allowing interaction with the dogs.
The Wildlife Trusts – Worcester and Shropshire. There are Wildlife Trusts all over the country, working with local communities to preserve wildlife and the countryside. Various activities are available in their nature reserves to allow children to connect with nature and experience a rural environment. Check the website to find out what's on at the Worcestershire and Shropshire Wildlife Trusts.
West Midlands attractions that are perfect come rain or shine
Hatton Adventure World – Warwickshire. This activity centre is ideal for families with children aged 13 and under. The programme of events changes with the seasons but includes interacting with farm animals, a bouncy castle and slide, a tractor safari, indoor soft-play, pony rides and an assualt course. There are too many different activities for me to mention them all so do check out their website to see if they've got something that your child would love.
Eastnor Castle – Herefordshire. Eastnor Castle is always a great day out, with events on throughout the year. We reviewed one of the events there last year and had a brilliant day out. There is a big focus on being outdoors with an adventure playground, lakeside walks and exciting themed activities for children. The castle is only open on particular days, so do check their website before you go. Dogs are welcome here, even inside the castle. This makes it accessible in any weather but most of the activities for children are outdoors.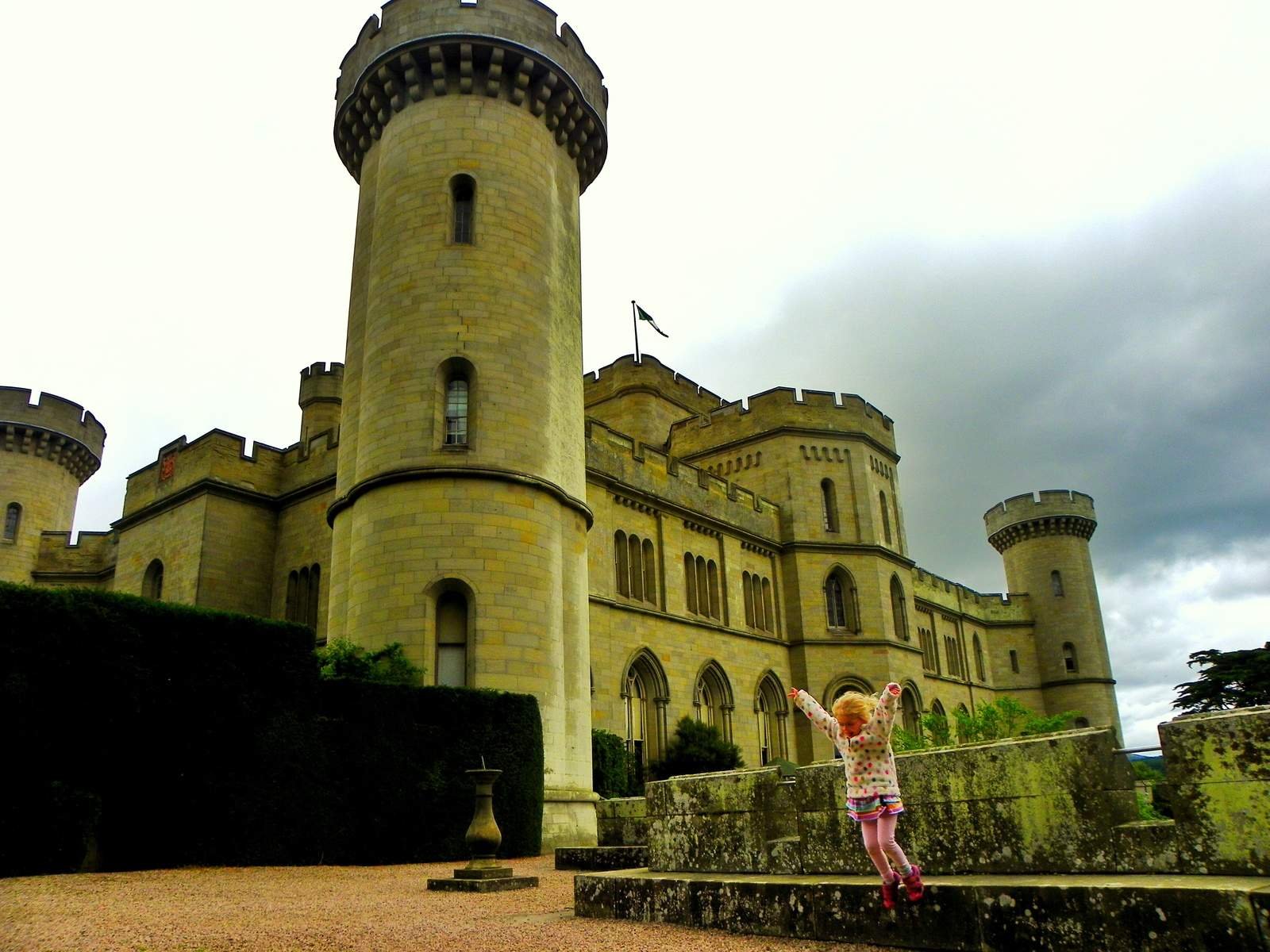 Ragley – Warwickshire. This is a grand stately home set in beautiful grounds. Children will love the adventure playground which includes an aerial slide, rope bridges, climbing frames and even a 3D maze. There's also a woodland walk and you can take a tour of Ragley Hall itself. Whilst the indoor area makes this suitable for any weather, children will prefer to visit when they can explore the adventure playground. Dogs are welcome in the grounds on leads.
Severn Valley Railway – Worcestershire to Shropshire. The Severn Valley Railway runs predominantly steam trains from Kidderminster to Bridgenorth. It is largely run by volunteers and doesn't run every day so it is worth checking their website before you go. The trains run between their dedicated stations, where you can get off to stretch your legs, visit a local pub and learn more about the railway and its engines. They also run special events throughout the year.
Symonds Yat Leisure Park – Ross on Wye. This is a small amusement park with fairground rides, amusement arcades and inflatables. It is located near to the maze and butterfly farm so you could easily spend the whole day visiting several of these attractions. You can also take a riverboat cruise from here.
National Forest Adventure Farm – Burton upon Trent. This is a lovely day out for young children with a small farm park and a tractor safari to see them all. There is also a JCB dig zone, crazy golf, an assault course and a bouncy slide and jumping pillows. Indoors there is a soft play area with various different slides, along with an area for younger children and a café. I reviewed this attraction last year. We had a great day there but I had one safety concern which has hopefully been sorted out now. Oh, and I had a favourite sheep.
Alton Towers – Staffordshire. This is the largest theme park in the area and I remember visiting a lot as a child. These days, it is home to CBeebies land – perfect for young children. There are also numerous rides that teens and adults will love, as well as a treetop quest and water park. You can't do the waterpark and theme park in one day, there's just too much to do. They have their own themed accommodation that children love, including a new CBeebies themed hotel. It is well worth staying over if you want to do both waterpark and theme park.
Drayton Manor – Tamworth. We are huge fans of Drayton Manor and were even chosen as Ambassadors for the attraction in 2015. This is a theme park with something for everyone. As well as the large, fast rides that thrill seekers will love, there is the much tamer Thomas Land area for young children. There's a 4D cinema, boat rides on the lake, a zoo and a dinosaur walk. There are indoor areas including restaurants, the 4D cinema and a soft play area. It is always better when you have at least some dry spells to make the most of a day there.
Historical attractions in the West Midlands
Warwick Castle – Warwickshire. Since becoming part of the Merlin group, this has become so much more than just a castle. You can explore the castle and its grounds including the scary dungeon with actors and special effects. There is a Horrible Histories maze and stunning views from the towers over the Capability Brown landscaped gardens. There are regular shows and events on here, so do check out their website to find out what's on. We are ambassadors for Warwick Castle for 2017.
Ironbridge Gorge Museums – There are several museums that come under the Ironbridge Gorge Museums umbrella. These include Blists Hill Victorian Town, Enginuity, the Tar Tunnel, the China Museum and the Museum of the Gorge. Each is great for a visit to learn about local history. They all have different events on during the year, particularly during school holidays. A full list of the museums and what's on at each can be found on their website.
Avoncroft Museum – I have to admit I'm a little bit biased about how brilliant Avoncroft is since it's where I got married. This is a museum of old buildings from different eras that have been moved from various places and reconstructed here. There is even a section dedicated to phone boxes, including a Tardis. Children love the amount of space at Avoncroft, they can run and play as well as learning. We went to their traditional Mayday Celebration last year and the girls had an amazing time.
Black Country Living Museum – Dudley. This museum offers a fascinating insight into the industrial history of the Black Country. It is an open-air museum set in 26 acres which has been constructed to simulate West Midlands life in the 1830's. There is a village complete with residents, traditional games, trams, shops, a fairground, an underground mine and even a pub. This is the perfect way to learn about history – by being immersed in it and experiencing life as it was then. You can read my top tips for a day out at the Black Country Living Museum.
Kenilworth Castle – Warwickshire. Kenilworth Castle is one of the most impressive an English Heritage owned properties in the West Midlands and is of great historical significance. You can enjoy the tower views and the Elizabethan garden as well as looking at the castle and learning about its history. There are events on at different times that will make the castle more appealing to children such as falconry displays and adventures in archeology.
Croome National Trust – Worcestershire. We are National Trust members and the annual investment is well worth it for free entry into some fantastic attractions. Croome is one of my favourite West Midlands days out. They have a standard outdoor playground with swings, slide and other play equipment. There is also an additional play area that is based around more natural activities like den building. This is in addition to the café, beautiful grounds and the house itself. They regularly have activities going on at Croome too for children of all ages.
Goodrich Castle – Ross on Wye. This is one of the best preserved medieval castles in the UK and it is owned by English Heritage. It is well worth picking up an audio guide so that children can immerse themselves in learning about the siege of the civil war and see the murder holes in the castle's walls and learn what they were for. There is also an exhibition including a display of the only surviving civil war mortar.
Acton Scott – Shropshire. Acton Scott was the setting for the Victorian Farm television series. It is a working farm that has daily activities and special events. The land surrounding the farm is worked by heavy horses and they run courses in traditional trades and crafts. There are beautiful walks around the area and you can stay in their holiday homes to experience a prolonged step back in time.
RAF Museum Cosford – Shropshire. Children who love aeroplanes will be delighted with the 70 aircraft displayed here. There are other exhibits too including WWI paintings, a model room and a Cold War exhibition. You'll also find a 4D Red Arrows flight simulator and a Fun and Flight interactive gallery. There are annual events held here including the esteemed RAF Cosford airshow. There are also special activities for families during school holidays.
Brockhampton Estate – Herefordshire. This National Trust property is a medieval manor house located in a 1700 acre estate. It's a great place to get out and about into the woods for a walk, dogs are welcome. You can also look around the house itself and children can discover the natural play trail. This is a walk just under a mile long with lots of activities to climb, balance and play on.
Hanbury Hall – Worcestershire. There are so many amazing National Trust properties in the West Midlands but Hanbury Hall, like Croome is one of our favourites. The hall itself allows visitors to see what life was like in the 18th century. But this National Trust property has more to offer than just its interior. It is set in beautiful gardens and orchards and surrounded by scenic walks. Dogs are welcome in most areas. For children, there is a play park and natural play area. There are also events throughout the year, including welly walks and wildlife exploring.
National Trust The Firs Elgar Birthplace Museum – The cottage in Broadheath where Elgar was born was purchased by his daughter after his death. It has since become a museum in his memory. This is a surprisingly dog friendly and child friendly day out. The museum itself is full of fascinating exhibits and children can let off steam outside in the musical garden. Dogs are allowed everywhere except for the café and inside the cottage itself.
Animal attractions in the West Midlands
Twycross Zoo – Warwickshire. Twycross is a primate centre that is renowned both in the West Midlands and around the world. They breed rare and endangered primates and young are often present with the breeding groups. Other animals on display include elephants, leopards and tapier. There are nearly 150 different species in total. You can go through a walk-through lemur enclosure and see tamarins above you in the treetop exhibit. The zoo has won awards for animal welfare due to the way the animals are kept.
Dudley Zoo & Castle – Dudley. Dudley zoo holds nearly 200 species of animals in the 40 acre castle grounds. The castle ruins are still present, making an interesting backdrop for the exotic animals. Dudley zoo are involved in animal conservation around the world. Anyone interested in architecture will enjoy the zoo's collection of Tectons – the unusual enclosures that were originally designed to hold the animals when the zoo was founded in 1937. These are still in place, but have been joined by more modern animal housing and paddocks.
Monkey Forest – Stoke-on-Trent. This is the only place in the UK where monkeys roam freely and visitors can walk through their forest. There are 140 Barbary macaques in 60 acres of woodland. A a 3/4 mile long path is available for visitors to walk along whilst watching the monkeys. There are no cages or barriers so the monkeys behave as they would in the wild. This is a great way to spend half a day and can be combined with nearby Tretham Gardens (see above) for a full day out.
West Midlands Safari Park – This is a reasonably large drive-through safari park with a large variety of animals. The giraffes, zebras, camels and numerous other animals roam freely in the area that you drive through. There are also big cat and elephant enclosures but these are kept away from the cars to keep visitors safe. There is a small theme-park area with some rides and a walk-through dinosaur area at the end of the safari. I wasn't overly impressed when we last visited as some of the big cats didn't have much space and were pacing and the rides were a bit tired and over-priced.
All Things Wild – Evesham. This is a nature centre with a variety of animals that are kept in an environment as close to their natural habitat as possible. Some animals are in paddocks so you can get really close to them, walking with lemurs and feeding the deer. There are indoor and outdoor dinosaur areas, a wild meadow where you can go pond dipping and a discovery zone where you can touch snakes, lizards and armadillos and play on the indoor beach.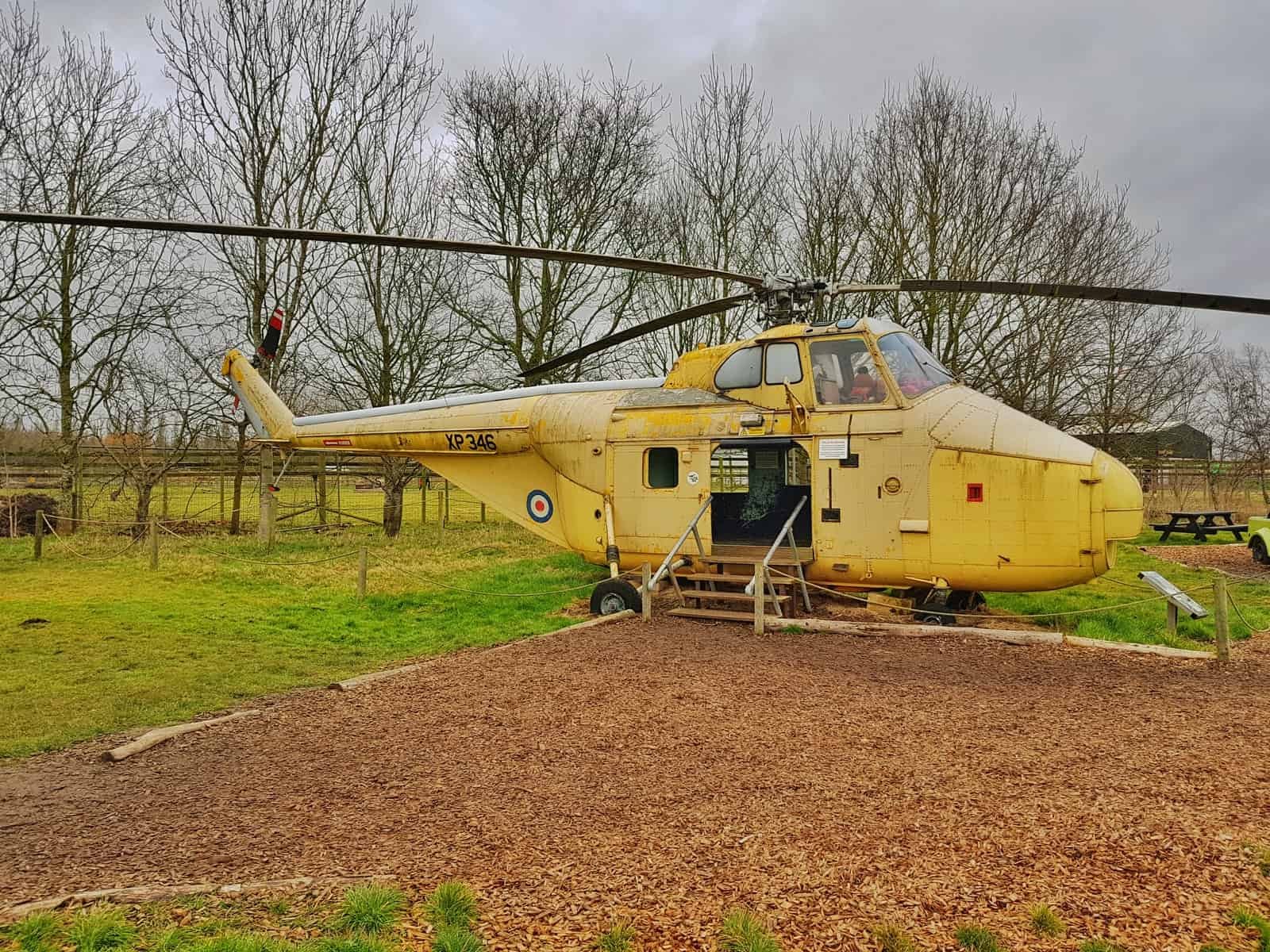 Newbridge Farm Park – Herefordshire. This is a small, family run farm park based on a working farm near Ledbury. Children can collect eggs, ride ponies and go on tractor rides. They can feed pigs, llamas and ducks and get hands on with small animals. There is an outdoor play area and an indoor play barn including a dedicated toddler zone.
Peak Wildlife Park – Staffordshire. This is a wildlife park with a large selection of animals from penguins to capybara to zebras and everything in between. The park has walkthroughs to allow you to get up close to the animals. The also run animal experiences for an even more hands-on approach. Children will love the indoor and outdoor play areas too.
Small Breeds Farm Park and Owl Centre – Herefordshire. This is a sweet collection of miniature animals including horses, donkeys, sheep, cows, pigs and goats. They are joined by small animals, birds and owls. Adults were even allowed to stroke one of the owls the last time we visited. All animals are displayed under cover during winter months.
Gentleshaw Wildlife Centre – Staffordshire. This is a sanctuary and hospital for exotic animals and birds of prey. The animals here are rescued, sometimes from being kept in unacceptable conditions and the aim of the sanctuary is to rehabilitate them and care for their welfare. They also help wild birds of prey that have been injured although these are not on display. Children can complete an activity pack whilst visiting the sanctuary and regular flight demonstrations take place too.
Umberslade Farm Park – Warwickshire. This is a really hands-on farm park experience where children can feed lambs and calves and hold chicks, rabbits and guinea pigs. There are two adventure playgrounds designed for different age groups, a new soft-play area and tractor and train rides around the park.
Cob House – Worcestershire. This is our default place in the West Midlands to spend half a day if we're at a loose end. It is free to take a stroll around and see the reindeer, goats, pigs, alpacas, ducks and chickens. You can buy food as well if you'd like to feed them. They do expect you to eat in their café rather than bring a picnic as everything else is free. There is a small assault-course style play area and it is in a beautiful location.
Ash End House Children's Farm – Staffordshire. This is a hands-on farm where children can interact with the animals. Experiences take place at different times of the day, so check the website to make sure you'll be there for your favourite. As well as farm animals, there is a shire horse centre with 15 to 20 horses that you can interact with. There is also a large indoor play barn and a water-zorbing area for children aged 5 to 12.
Rays Farm – Shropshire. Ray's Farm has a large collection of animals including sheep, pygmy goats, deer, rabbits and owls. There are also accessible woodland walks with wooden sculptures and a forest play area with ropes and scramble nets. There is a mini-beach, log play area, soft play and a table tennis table. Events run throughout the year, particularly in school holidays so do check their website.
For more family travel and days out outside of the West Midlands, head to the Mini Travellers family travel blog.
Please note, this post contains a few affiliate links which means that I may be paid a small amount if you make a purchase after clicking through to those sites. None of the attractions included in this post asked to be mentioned and I have given my honest opinion on those I have visited. All information is taken from the websites belonging to the individual attractions.